TV dramas lure audience with changing content
(China Daily)
Updated: 2005-01-17 08:41
Chinese people have developed different expectations towards movies and TV soap operas, as TV ratings last year showed.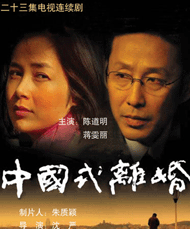 The poster of the TV series "Chinese-Style Divorce" (Zhongguoshi Lihun)

They are drawn to TV dramas that reflect the daily lives of ordinary Chinese, even though they may expect the dazzling action scenes and special effects from movie blockbusters such as "Hero" (Yingxiong), "House of Flying Daggers" (Shimian Maifu) and "Kung Fu Hustle" (Gongfu),which follow in Hollywood's footsteps.

Audiences go to movie theatres to enjoy audio and visual feasts, but when they sit in front of TV sets, they smile and cry together with fictional figures whose stories are similar to theirs.

Most of the soap operas that have been hits on TV over recent years are those closely related to stories of common people their life crises, the puzzles they confront, and all the trivia that complete mundane life.

The past year is no exception.

Family matters

A batch of soap operas became prime-time hits, with "Chinese-Style Divorce" (Zhongguoshi Lihun) being the most popular one.

Starring Chen Daoming and Jiang Wenli (both among China's best actors and actresses), the 22-part serial tells the story of a suspicious wife and a broken-down husband.

It was aired across the country in the fourth quarter of last year. According to a survey by AC Nelson, its TV ratings surpassed 10 per cent in most cities, and even hit 20 per cent in some cities.

At the end of 2004, it was awarded "TV drama of the Year" by the"New Weekly" magazine.

The novel of the same title has also sold well. The first print run hit 100,000 copies, and became a bestseller immediately after it appeared on the market.

Enthusiastic discussions on the drama flooded the message boards of entertainment websites.

Its Chinese title is also among Baidu and Google's most frequently searched keywords in 2004.

TV insiders attribute the success of "Divorce" to its vivid depiction of the contemporary Chinese life.

Divorce used to be taboo in the Chinese society, but with people caring more and more about personal values and the quality of marriage, it is no longer considered unacceptable.

The revised Marriage Law, which took effect in 2001, also loosened up legal standards in divorce suits.

As a result, the divorce rate in China rose from 0.07 per cent in 1980 to 0.21 per cent last year, as statistics from the Ministry of Civil Affairs show.

Many people say that the drama more or less reflects their own lives.

After watching the drama, some couples realized that they have the same problems and set out to improve relations, according to Wang Hailing, screenwriter of "Divorce."

"Such interaction shows that TV drama is not only a vehicle to express people's dissatisfaction. It also helps improve relationships," Wang said.

Other soap operas similar to "Divorce" are "Eldest Sister" (Dajie), "Mother-in-Law" (Popo) and "Romantic Things" (Langman De Shi). Their TV ratings ranged between 7.5 to 8.5 per cent when they were aired at the China Central Television (CCTV).

Although the dramas vary in storylines, they have common aspects most are about family relationship in urban areas, and thus are regarded as a genre dubbed "Ethic Drama."

The genre tends to portray love affairs, marriage, and other family issues in a highly realistic and worldly manner, instead of abstracting and romanticizing the issues as the Taiwan and Hong Kong TV soap operas adapted from novels by Taiwan writer Chiungyao did.

Idealistic and abstract expressions, which were common in TV dramas several years ago, have faded, thus making the dramas more believable and closer to real life.

These fresh TV dramas have the power to reach into the bottom of hearts.

According to Meng Xianhua, a divisional director at the Beijing TV Station, at last year's Shanghai International TV Festival which ended in June, dramas about family life accounted more than 17 per cent of the total trade volume.

"TV drama is an art for ordinary people. The secret of success is to mirror ordinary people's sentiment and their lives," said Zhang Jinbiao, director of "Eldest Sister."

Over recent years, martial arts TV dramas have been cranked out one after another.

Kung fu and pop idols

But in 2004 the passion for martial arts, which was brought along by"Smiling, Proud Wanderer" (Xiao Ao Jianghu) in 2000, abated.

The TV drama "Goodbye Vancouver" (Biele, Wengehua) proved to be another hit during the year 2004.

The only drama of this genre last year was "Demi Gods and Half Devils" (Tianlong Babu), which was aired in early 2004.

While "Wanderer" was bluntly criticized by most people, "Demi Gods" received much better responses.

According to a survey held by Sina.com, one of the leading Chinese language web portals, as many as 75 per cent of people ranked it as "good," 17 per cent ranked it as "average," and less than 8 per cent regarded it as a "bad production."

Pop idol soap opera was also a major TV drama genre last year, with "Goodbye Vancouver" (Biele, Wengehua) and "Love from the Aegean Sea" (Qingding Aiqinhai) getting popular.

The genre is characterized by heart-throb actors, pretty actresses, colourful settings and unrealistic affluence, rather than strong characters and emotional storylines.

Experts argued that almost all of Chinese mainland's pop idol dramas are still under-developed, lagging far behind those produced in China's Taiwan Province as well as in Japan and South Korea. Most of those dramas were merely cheap imitations of South Korean productions and had no artistic value.

Imported South Korean soap operas still have a huge influence among Chinese television viewers. For example, the viewer rating of the 120-part "The Last Empress" hit 4.2 per cent, though it was aired after 10 pm at night.

By contrast, Hong Kong and Taiwan TV productions have lost a greater share of the mainland entertainment market. In the 1980s, almost every TV channel was flooded with TV drama series from Taiwan and Hong Kong.

Mainland TV drama began to evolve and gain popularity gradually among local audiences in the first half of the 1990s, and has gained significant regional attention now.

Many mainland productions have been aired and made huge hits in Hong Kong and Taiwan, for example "Yongzheng Court" (Yongzheng Wangchao).

Since the end of 2004, "War and Beauty" (Jinzhi Yuyie), the latest history drama from the Hong Kong Television Broadcast Company (TVB), spread quickly on VCD and DVD on the mainland.

Although it has not been officially aired on the mainland, the drama, which swept most awards for TV drama in Hong Kong last year, has already become the most welcome Hong Kong production on the mainland.

Competitive business

For years Chinese TV dramas have been doing much better than the movie sector. Easier entry for private investment and more liberal screening have allowed TV dramas to boom, making watching TV the dominant nightlife entertainment for ordinary Chinese.

But it seemed that changed a little bit last year, with three domestic movie blockbusters each simultaneously reaping more than 100 million yuan (US$12 million) in revenue, an unprecedented state of affairs.

Movies' total box-office revenue skyrocketed 50 per cent to 1.5 billion yuan (US$180 million) in 2004, and the total earnings of the whole movie business may hit 3.6 billion (US$433 million), the State film authority estimates.

On the other hand, according to a CCTV survey, total viewer ratings for prime-time TV drama series across the country dropped 4 percentage points in the first half of last year.

However, insiders say that does not indicate the shrinking of the soap opera market. "The output of TV dramas rose 10 per cent from 2003 to more than 11,000 episodes last year," said Jin Delong, director of the Department of TV Dramas of the State Administration of Radio, Film and Television.

According to Jin, TV commercials aired before TV soap operas, the most watched television programmes in China, are the most important revenue source for TV stations.

Every year, soap operas bring about 22 billion yuan (US$2.65 billion) in ad revenue for 2,000 plus TV stations across China, dozens of times that of movies' box-office revenue.




| | |
| --- | --- |
| | |
| Love also a personal matter for stars | |

| | |
| --- | --- |
| | |
| Zhang Mi | |

| | |
| --- | --- |
| | |
| Pitt and Aniston separate | |
Today's Top News
Top Life News

'Go-west' speeds up in next five years




Cross-straits jets ready for take-off




80 officials entangled in bank loan swindle




Physical condition of Zhao Ziyang stabilizes




Party issues outline to fight corruption




Beijing DNA experts study Thai remains