Tsunami death toll rises past 162,000
(Agencies)
Updated: 2005-01-16 23:37
Indonesia increased its tsunami death toll by 5,000 on Sunday, raising the overall number of people who died in the Dec. 26 disaster to more than 162,000.
The nation's defense minister toned down his country's reluctance to host foreign troops helping in relief efforts.
The additional deaths came from the village of Calang, on the northwestern coast of Sumatra. The island has counted more than 115,000 dead, including those killed in the earthquake that generated the killer waves. More than 12,000 people were still missing, according to Indonesia's Social Affairs Ministry.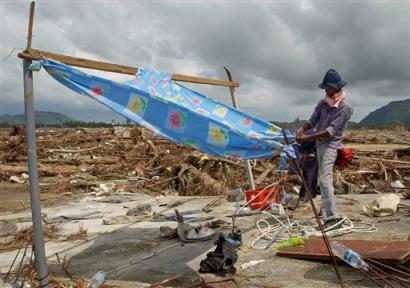 Zulfikar erects a makeshift tent on the site of his former home, Sunday, Jan. 16, 2005, in Lhoknga, a village on the outskirts of Banda Aceh, Indonesia. Zulfikar lost his mother, and seven brothers and sisters in the Dec. 26 tsunami. [AP]


A Japanese medical team arrived in Sumatra's Aceh province on Sunday to prepare for their military's biggest overseas relief effort. Japan plans to send about 1,000 troops to Aceh this month for a three-month stay, said Col. Takeshi Moriichi, commander of the military's medical corps.

The U.S. military already has 2,000 Marines ferrying aid workers and transporting food to victims in Aceh, where most of the devastation occurred. Overall about 15,000 U.S. military personnel are involved in the relief effort in southern Asia.

Hundreds of troops from Australia, Singapore, Germany and other nations are also helping the relief effort, along with U.N. agencies and scores of nongovernment aid groups.

Several Indonesian officials, including the vice president, have expressed unease about the large number of foreign troops, indicating their desire to see them gone by the end of March. Security appeared to be a big part of the concern. Aceh is home to separatist rebels who have been fighting the central government for years.

But on Sunday the nation's defense minister said there is no deadline for the troops to be out.

"We would like to emphasize that March 26 is not a deadline for involvement of foreign military personnel in the relief effort," Defense Minister Juwono Sudarsono said after meeting U.S. Deputy Secretary of Defense Paul Wolfowitz in Jakarta.

Wolfowitz, who also toured the disaster-hit Sumatran coast during his visit, has voiced pride in the American aid operation but said Washington wants to hand over relief work to Indonesia and other affected nations as soon as possible.

In the meantime, he hinted he believes improving military links would help bolster democracy in Indonesia under President Susilo Bambang Yudhoyono.

"We need to think about how we can strengthen this newly elected democratic government ... to help build the kind of defense institution that will ensure in the future that the Indonesian military, like our military, is a loyal function of a democratic government," said Wolfowitz, a former U.S. ambassador to Jakarta.

Canada's Prime Minister Paul Martin was in Thailand, where he met members of a Canadian police forensic squad helping identify the dead in beach towns leveled by the killer waves.

"It's very emotional on the one hand, but on the other hand we must really recognize all those — Thai and Canadian — who have worked so hard here," he said.

With tens of thousands homeless, aid groups stepped up campaigns to prevent malaria, measles, cholera, typhoid, dysentery and other diseases in teeming refugee camps across the disaster zone.

Tetanus has been detected in 67 people in Aceh province with the number expected to rise, said Doctors Without Borders. Tetanus has a mortality rate of up to 25 percent.

More aid teams were headed to the ravaged coastal city of Meulaboh, including doctors who will establish a mobile clinic, said Roberta Rossi, a spokeswoman for USAID.

Meanwhile, Australia and New Zealand observed a minute's silence for tsunami victims. Bells tolled and flags flew at half mast. "Three weeks ago, the world began to watch in horror as a catastrophe without precedent in recent times unfolded around the Indian Ocean," said New Zealand's Prime Minister Helen Clark.

The aftermath of the "catastrophe has also seen human beings reach out to support each other on an unprecedented scale," she said.

"Across religions, faiths, and beliefs, across ethnicities and national boundaries, the common humanity of people has shone through at this time of great adversity for so many."




Today's Top News
Top World News

'Go-west' speeds up in next five years




Cross-straits jets ready for take-off




Japan maps plan to defend southern islands




Physical condition of Zhao Ziyang stabilizes




Beijing DNA experts study Thai remains




80 officials entangled in bank loan swindle