No expired food to tsunami-hit nations: China
(Xinhua)
Updated: 2005-01-16 15:53
The Chinese government always attaches great importance on food safety and never provides expired food to the tsunami-hit countries, said spokesman of the Ministry of Commerce Chong Quan on Sunday.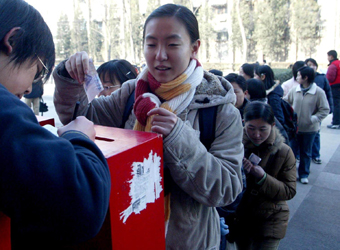 Peking University student An Yingzhi makes a donation to tsunami-hit nations at her campus Jan. 2, 2005, as did hundreds of other students and teachers. During the New Year holiday, people across China have been digging deep to help their fellow human beings in vital need of aid. [newsphoto]


Chong said some Indonesian media recently reported that the food China provided to the tsunami-affected areas in Indonesia was "expired of date" and "inedible", and the media also aired a close-up shot of the date "2004.12.10" on a food package.

According to China's Law on Production Quality and Law on Food Hygiene, food packages ought to mark the production date and safe using period. The production dates on the food aided by China are legal and qualified by Chinese laws and standards, said Chong.

The rumor was spread by some people with ulterior motives, taking the advantage of the difference between China and other countries in food package signs and most of the tsunami-affected people can not recognize the Chinese words, said Chong.

Its purpose is to make trouble and mislead the Indonesian people. It is very evil, said Chong.




Today's Top News
Top China News

Mainland, Taiwan clinch deal on direct flights




Japan oil firms to drill in East China Sea




China decides to resume issuance of IPOs




President Abbas sworn in, peace call clouded




Chinese relief goods lands in Sri Lanka




FM: Vietnamese sea bandits shot, captured