Indonesia ups tsunami death toll by 5,000
(Agencies)
Updated: 2005-01-16 15:06
Deputy Secretary of Defense Paul Wolfowitz flew over Sumatra's tsunami-devastated coast on Saturday and voiced pride in the American aid operation. But he said Washington wants to hand over relief work to Indonesia and other affected nations as soon as possible.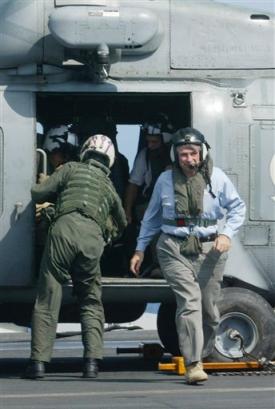 U.S. Deputy Secretary of Defense Paul Wolfowitz arrives aboard the USS Abraham Lincoln off the coast of Aceh province Indonesia, Saturday Jan 15, 2005. [AP]


The Indonesians "have welcomed us in a way that might have been unimaginable in other circumstances," Wolfowitz said aboard the aircraft carrier USS Abraham Lincoln anchored off the Indonesian coast.

Indonesia increased its death toll by 5,000 on Sunday — pushing the overall number of lives lost to more than 162,000. The massive earthquake off Sumatra three weeks ago spawned huge waves that killed people in 11 countries.

In the ongoing recovery work in Indonesias Aceh province, the United Nations (news - web sites) Development Program started paying about 3,000 tsunami survivors the equivalent of $3 a day to help with the clean up — an attempt to jumpstart the region's crippled economy.

The U.N. refugee organization, the UNHCR, was distributing 10,000 five-person tents to survivors in the city, agency officials said, with 10,000 more expected soon.

Efforts to keep epidemics at bay intensified, with the United Nations accelerating a measles vaccination drive after 20 cases of the disease were reported across Aceh.

Tetanus also has been detected in 67 people, said Medecins Sans Frontieres, or Doctors Without Borders. Because the disease has an incubation period of up to 60 days, that number is expected to increase. Tetanus has a mortality rate of up to 25 percent.

Aid workers were spraying tents and walls with insecticide to kill mosquitos and prevent malaria in areas that were swamped by the killer waves.

More aid teams will be heading to the ravaged coastal city of Meulaboh, including doctors who will establish a mobile clinic, said Roberta Rossi, a spokeswoman for USAID.

The United States is keen to use its big aid and recovery effort, which has included many U.S. ships and thousands of troops, to boost American standing in the Muslim world, where Indonesia is the most populous Islamic country.

Jakarta, nevertheless, has expressed unease over the number of foreign troops and wants them out by the end of March. Wolfowitz, a former ambassador to Indonesia, said the United States respects that concern and had no intention of interfering in Indonesia's domestic affairs.

"We don't have a plan other than to try as quickly as we can to hand over responsibility to others, and especially to the Indonesian government as they're ready to take that on," he said.

Adding to Indonesian sensitivity, the bulk of the devastation on Sumatra Island hit Aceh Province where separatist rebels have been fighting against the central government for years.

"Indonesians are very self-reliant people. So before long, they probably won't need the help," he said later in Banda Aceh, the provincial capital.

After touring the damage zone, Wolfowitz declined to comment on Jakarta's demands that the United States lift a long-standing ban on selling weapons to Indonesia's military. Earlier this week, Indonesian officials argued that the country could have better responded to the disaster if its forces were better equipped.

But human rights groups and congressional supporters of the ban say Jakarta is exploiting the disaster for political gain, and insist that the ban should remain until Indonesia addresses unresolved human rights violations.

The ban was first imposed in 1991 when Indonesian troops gunned down unarmed protesters in East Timor, killing more than 250 people. Eight years later, the ban was tightened after Indonesian troops and their proxy militias killed 1,500 East Timorese after the half island territory voted for independence in a U.N.-sponsored independence referendum.

Wolfowitz said the Indonesian government had the chance to quell the Aceh separatists if the reconstruction effort in the province is a success and shows the "benefit of being part of Indonesia."

In Sri Lanka, where 31,000 died in the second highest country toll after Indonesia, a leader of the Tamil Tiger rebel movement said the government lost a chance to revive peace talks despite hopes that tsunami relief work would bring the two sides together.

S.P. Thamilselvan, head of the political wing of the ethnic Tamil rebels who seek an independent state, said the Sinhalese-dominated government had given minimal assistance to rebel-held areas, instead channeling most international assistance to areas under its control.

"It has dashed hopes of reconciliation," Thamilselvan told The Associated Press in an interview at his headquarters in Killinochchi.

Norway brokered a cease-fire in February 2002, but talks aimed at ending the 20-year conflict broke down more than a year ago.

The government has denied charges it is preventing aid from reaching rebel areas in the north and east of the island nation.




Today's Top News
Top World News

Mainland, Taiwan clinch deal on direct flights




Japan maps plan to defend southern islands




No expired food to tsunami-hit nations: China




Japan oil firms to drill in East China Sea




President Abbas sworn in, peace call clouded




Chinese relief goods lands in Sri Lanka