No trace of Utah avalanche victims found
(Agencies)
Updated: 2005-01-16 09:02
Rescue workers spent all day Saturday digging through a massive snow pile but found no traces of five people feared dead in a 300-yard-wide, 500-yard-long avalanche that cascaded down a Utah mountainside a day earlier.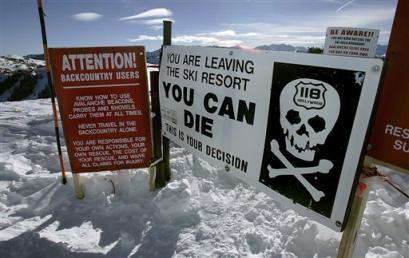 Warning signs mark the boundary of The Canyons ski resort and backcountry, rear, Saturday, Jan. 15, 2005, outside Park City, Utah. Five people who went beyond the barriers are missing, following an avalanche Friday. [AP]


Exactly how many skiers were buried in the Friday afternoon snow slide remained unclear late Saturday afternoon.

Summit County Sheriff Dave Edmunds said officials were still trying to match eyewitness accounts to a list of skiers who were thought to be in the area when the avalanche happened.

Sheriff's Capt. Alan Siddoway said officials knew of five people who were unaccounted for when the search resumed Saturday morning.

As of late Saturday afternoon as the day's search was winding down, searchers had confirmed the identity of only one victim, a Montana man in his 20s whose name was not released.

Six crews and rescue dogs poked the snow, up to 30 feet deep in some areas, in an area outside the boundary of The Canyons resort on federal land in the Wasatch-Cache National Forest.

The search had shifted from a rescue to a recovery mission by Friday evening. With such a huge amount of snow to search through, progress was slow.

The search ended for the night Saturday, with crews having gone over most of the avalanche area. Edmunds said if the search crews go over the debris field twice without finding anything, machines would be brought in to strip away layers of snow to help the volunteers.

The danger of more avalanches remained high in the Wasatch Mountains, which received as much as eight feet of wet, heavy snow over the last two weeks.

Volunteers are "risking their lives trying to make a recovery," Edmunds said.

"It's very frustrating because these kids should not have been in that area. This was an area that was roped off and signed, and they just chose to ignore it," the sheriff said.

Bruce Tremper, director of the Utah Avalanche Center, said the area beneath Dutch Drop had already been heavily skied by those who ignored avalanche warnings, which included signs plainly saying the danger was high and "YOU CAN DIE" in bold print with a skull and crossbones.

It was just a matter of one skier hitting "just the right spot" to release a slide, Tremper said. "It's like a mine field."

Six people have already been killed in Utah avalanches this winter and it's still relatively early in the season. The total is the highest since the state began keeping records of avalanche deaths in 1951.




Today's Top News
Top World News

Mainland, Taiwan clinch deal on direct flights




Beijing will not allow RMB to appreciate




President Abbas sworn in, peace call clouded




Chinese relief goods lands in Sri Lanka




China, US talk to resolve textile disputes




FM: Vietnamese sea bandits shot, captured