U.S. announces 'open skies' with India
(Agencies)
Updated: 2005-01-16 08:58
The United States and India have reached an open-skies aviation agreement that will lead to more flights, lower fares and stronger economic ties between the two countries, Transportation Secretary Norman Y. Mineta announced Saturday.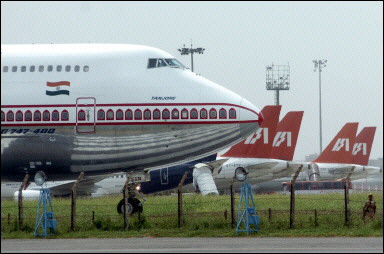 Indian Airlines planes at Delhi's Indira Gandhi international airport. India and the United States reportedly should be ready to sign an open skies agreement to liberalise air travel between the two countries as early as next month. [AFP]


The agreement comes after three days of negotiations between Mineta and India's civil aviation minister, Praful Patel.

Mineta said the agreement means the two countries "will be closer than ever before" and begins "a new era where American and Indian consumers, airlines and economies can reap the rewards of cheaper flights, more choices and faster air service."

He said the agreement will strengthen commercial aviation in a number of ways, including more direct flights to serve the approximately 2 million passengers a year traveling between the two countries.

The agreement allows airlines from both countries to select routes and destinations based on consumer demand, providing for open routes, capacity, frequencies, designations, and pricing as well as opportunities for cooperative marketing arrangements.

That includes code-sharing with domestic Indian carriers to aid in making reservations and giving a greater choice of flights.

The deal also allows all-cargo operators to operate in either country without directly connecting to their homeland.

India and the United States are the world's two largest democracies and two of world's fastest growing economies, Mineta noted in a statement.

He said trade between the two nations totaled $18 billion in 2003, a 13.5 percent increase from the previous year, and was growing at an even faster pace in 2004, according to preliminary figures.

The provisions expected to provide the greatest economic benefit, like those affecting routes and code-sharing, take effect immediately, the Transportation Department said.

The entire agreement take effect once the deal is signed "in the near future," the announcement said.

The new deal replaces an agreement signed in 1956 that placed restrictions on the number of airlines that could fly between the two countries, cities that could be served, the frequency of service and pricing.

India becomes the 67th bilateral U.S. Open (news - web sites) Skies partner.




Today's Top News
Top World News

Mainland, Taiwan clinch deal on direct flights




Beijing will not allow RMB to appreciate




President Abbas sworn in, peace call clouded




Chinese relief goods lands in Sri Lanka




China, US talk to resolve textile disputes




FM: Vietnamese sea bandits shot, captured