Abbas vows peaceful end to Mideast conflict
(Agencies)
Updated: 2005-01-16 08:52
Palestinian leader Mahmud Abbas vowed to reach a negotiated end to the vicious circle of Middle East violence as he was sworn in against a grim backdrop of deadly clashes in Gaza and a freezing of contacts by Israel.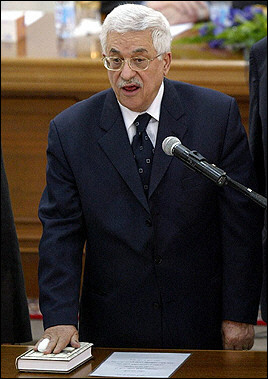 Newly installed Palestinian leader Mahmud Abbas takes the oath during his formal inauguration ceremony as president of the Palestinian Authority at the Muqataa in the West Bank city of Ramallah. [AFP]


In his inauguration speech, delivered six days after his landslide victory in the election to replace the late Yasser Arafat, Abbas told MPs that he wanted a mutual ceasefire and Israelis must learn to share land with the Palestinians if their four-year conflict was to be brought to an end.

But as he spoke, new violence raged in the Gaza Strip where eight Palestinians were killed in clashes with Israeli troops.

Two of the main militant groups poured cold water on the prospects of a ceasefire, stressing what they called the legitimacy of "armed resistance" as a form of self-defence against the Israeli military.

But Palestinian foreign minister Nabil Shaath said Abbas would meet with the groups -- Hamas and Islamic Jihad -- on Monday in the hope of trying to win a ceasefire agreement.

Abbas' speech came amid the continuing fallout from Thursday's attack on a Gaza border crossing point, in which six Israelis were killed and has prompted Israeli Prime Minister Ariel Sharon to freeze all contacts.

"We are seeking a mutual ceasefire to end this vicious circle," Abbas said.

"In the last few days, a number of incidents have taken place. We condemn these actions, whether by the Israeli occupation forces or the reactions of some Palestinian factions.

"This does not help bring about the calm needed to enable a credible, serious peace process."

But Israel attacked Abbas's speech, saying he had failed to include a clear denunciation of militant attacks.

"We are disappointed by the ambiguous declarations of Mahmud Abbas and especially the fact that he did not express the slightest intention to combat terrorism," government spokesman Avi Pazner told AFP.

He said a failure by Abbas to fulfill a campaign pledge to take action against armed militants would "undermine his authority" and prevent a resumption of dialogue with Israel.

Abbas, however, reaffirmed his commitment to the roadmap peace plan which calls for an end to attacks by Palestinian militants. The blueprint calls for the creation of an independent Palestinian state alongside a secure Israel but has made next to no progress since its launch amid continuing violence.

"We will remain committed to the PLO's (Palestine Liberation Organisation's) strategic choice: the choice of achieving just peace and our national goals through negotiations," he said.

"We have repeatedly stated that we are committed to our responsibilities in the roadmap. We will implement our obligations as a matter of Palestinian national interest. In return, Israel has to implement its obligations."

The new leader, who is seen as a moderate, also urged Israelis to acknowledge the need to share land.

"From this forum, I say to the Israeli leadership and to the Israeli people: we are two peoples, destined to live side by side and to share this land between us," Abbas said.

Hamas and Islamic Jihad were distinctly cool about a ceasefire, despite praising some of Abbas' speech, including his calls for institutional reform.

"The issue should be raised with the Israeli enemy only when they stop all kinds of aggression," Hamas spokesman Sami Abu Zhuri told AFP.

Mohammed al-Hindi, Jihad leader in its Gaza stronghold, said "armed resistance" was the best form of self-defence against the Israeli army.

On the ground, five Palestinians were killed during an Israeli incursion into the Zeitun neighbourhood of Gaza City. Two others were killed in Israeli fire in the Rafah refugee camp in the south of the territory.

Later, a 20-year-old Islamic Jihad militant was shot dead after opening fire on Israeli troops in Gaza, while two suspected Palestinian collaborators were killed by militants in Nablus in the northern West Bank.

Separately, Abbas confirmed he wants current prime minister Ahmed Qorei to head a new government.

Mohammed Dahlan, security minister under a previous Abbas government who is set to return to high office, criticised Sharon's decision to freeze contacts.

"I think that Sharon wanted to send a message to the Palestinian people that 'I am a tough guy' but this decision is unacceptable and he must remember that a lot of Palestinians have been killed. No one talks about them," he told AFP.

One of Sharon's advisors was unrepentant, however, accusing Abbas of knowing who was behind the attack on the Karni crossing, carried out by three militant groups including one linked to Abbas' Fatah movement.

"The moment of truth has arrived for Abu Mazen (Abbas)," he said.

"If he really wants to fight against terrorism, he can order the deployment of 30,000 Palestinian policemen to the areas where the terrorists are active."




Today's Top News
Top World News

Mainland, Taiwan clinch deal on direct flights




Beijing will not allow RMB to appreciate




President Abbas sworn in, peace call clouded




China, US talk to resolve textile disputes




FM: Vietnamese sea bandits shot, captured




Securities watchdog gets IPOs back on track