Iraq to OK voter registration on Jan. 30
(Agencies)
Updated: 2005-01-15 23:42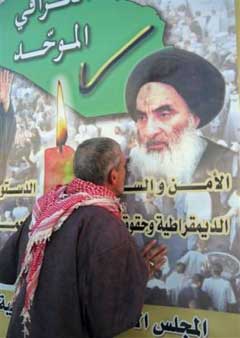 An Iraqi man kisses an electoral poster featuring the Shiite cleric Ayatollah Ali al Sistani, in Najaf, some 160 kilometers (100 miles) south of Baghdad, Saturday, Jan. 15, 2005. Sunni Muslim militants claimed responsibility Friday for the assassination of a community leader promoting the election on behalf of al-Sistani. [AP]

Iraqis in two of the country's most troubled provinces will be permitted to register and vote on the day of elections, the head of Iraq's electoral commission said Saturday.

Commission Chairman Abdul-Hussein Hendawi also said he expected a same-day preliminary vote count. Tallying final results from the Jan. 30 elections could take as long as 10 days.

In the face of increasing concerns about security during the election period, authorities have agreed to let voters register and cast ballots on the same day in Anbar and Ninevah provinces, Hendawi said.

The two provinces, home to restive cities like Fallujah and Mosul, have suffered frequent insurgent strikes and deadly clashes involving U.S. forces, raising questions about whether voting will be able to precede in parts of those areas.

In an apparent bid to head off car bombings on election day, Iraqi authorities will restrict the use of automobiles throughout the country and will place security cordons around polling stations, a Cabinet minister said Saturday.

Provincial Affairs minister Waeil Abdel-Latif gave no details on how cars would be restricted, but security sources have said authorities are considering banning the use of private vehicles Jan. 29-31.

Abdel-Latif also pledged that the government of Prime Minister Ayad Allawi would provide adequate security for voters, but he acknowledged that the security situation in four of the country's 18 provinces was unstable.

Iraqi security forces will shoulder the prime responsibility for protecting voters on election day, but the U.S.-led multinational force will provide support if asked, Abdel-Latif said.

Some 14 million Iraq residents are eligible to vote in the election for a 275-seat legislature that will run the country, draft a permanent constitution and chose a president and prime minister.

Another 1.2 million eligible Iraqi voters living abroad can cast ballots in 14 countries, including the United States, Iran, Syria, Britain and Sweden.

A violent intimidation campaign by insurgents has kept voter registrations light in areas north and west of the capital. In particular, rebels have gunned down election officials and members of the U.S.-trained Iraqi forces.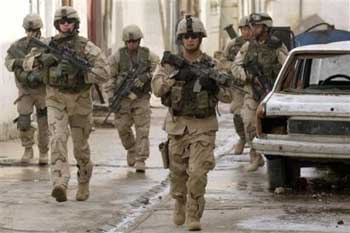 U.S. Army 1st Battalion, 24th Infantry soldiers return to their vehicles after hearing a large, distant explosion in Mosul, Iraq, Saturday, Jan. 15, 2005. A roadside bomb had struck another Army convoy across the city. [AP]

Iraqis wanting to vote in Iraq's 16 other provinces will have to register ahead of time, as planned, Hendawi said.

Much is riding on the success of the vote. US President Bush's administration hopes the election will be a major step in the building of a democracy and will set the stage for withdrawing American and international military forces.

A lot of attention likely will be focused on voter turnout. Clerics and politicians from Iraq's Sunni Muslim minority have threatened a boycott, citing security concerns. The country's long-oppressed Shiites, eager to win a share of power reflecting their status as the nation's majority community, are expected to turn out in higher numbers.

Some observers have warned that such a scenario could further divide the country along ethnic and religious lines.

Meanwhile, a local government building in the city of Ramadi was hit with rocket-propelled grenades, and groups of armed men were seen roaming the streets of the city, where markets and shops were shuttered. There was no immediate word on casualties.

Baghdad University Vice President Nihad Mohammed al-Rawi escaped an assassination attempt Saturday by gunmen who fired on his car in the city's Jadriyah neighborhood, security officials said. One of his bodyguards was wounded, the officials said on condition of anonymity.

Killings of Iraq's intellectuals and professionals were common after the March 2003 invasion but had dropped off in recent months.

Meanwhile, 15 Iraqi soldiers were still missing after insurgents pulled them off a public bus Friday in the latest assault on Iraqi security forces. Rebels stopped the bus, screened its passengers for the Iraqi security troops and set the vehicle ablaze.

In another development Saturday, the Defense Ministry confirmed a report in a major Arabic daily that an Iraqi woman trained by members of Saddam Hussein's regime in Syria tried to assassinate the defense minister but fainted before carrying out her mission.

Al Hayat newspaper quoted Defense Minister Hazem Shaalan as saying the assassination attempt took place in his Baghdad office more than a week ago.

Shaalan told the newspaper that the woman, who is about 40, entered the ministry claiming she wanted to deliver important security information.

"As she was sitting in the presence of several officials from the ministry, she surprised everyone by taking out a pistol she was carrying and pointed it at me from a distance of about one meter but in the last moment she collapsed and started crying," he was quoted as saying.

In the southern cities of Basra, Amarah and Kut, hundreds of followers of radical Shiite Cleric Muqtada al-Sadr demonstrated in front of government buildings Saturday to demand better services, mainly electricity and gasoline.

Also Saturday, a roadside bomb ripped through a U.S. convoy in the Abu Ghraib area west of Baghdad on Saturday. One U.S. truck was destroyed, said Abu Ghraib police Lt. Akram al-Zubaie.

In the capital, three mortar shells exploded around midday near the heavily guarded Green Zone in the third straight day of insurgent shelling of the nerve center of the U.S. and Iraqi administration.




Today's Top News
Top World News

Mainland, Taiwan clinch deal on direct flights




Beijing will not allow RMB to appreciate




President Abbas sworn in, peace call clouded




China, US talk to resolve textile disputes




FM: Vietnamese sea bandits shot, captured




Securities watchdog gets IPOs back on track