'Simple Life' denies deer-poaching claim
(Agencies)
Updated: 2005-01-15 09:29
Paris Hilton's reality show "The Simple Life" is disputing allegations that a deer was illegally killed so that it could be gutted by the socialite and her sidekick, Nicole Richie.
State officials said the deer was killed Tuesday night and they believe it was to be gutted for the show. Investigators are looking into accounts the deer was shot by someone firing a gun from inside a car.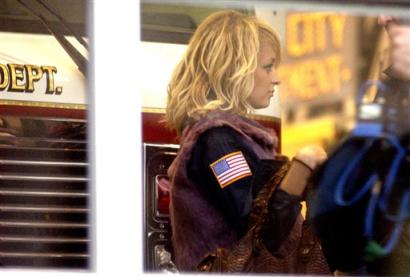 Co-star Nicole Richie of Fox's 'The Simple Life' television reality show visits a fire station in Atlantic City, N.J., during filming of the show episode, Friday, Jan. 14, 2004. The reality TV socialites, Paris Hilton and Richie, decided to work at a fire station for a day after protests from parents squelched their plans to work at a nearby school. The show's third season, which premieres Jan. 26, has Hilton and Richie traveling the country working as interns in a series of jobs. [AP]

Two men working for the Fox show could face fines of between $100 and $500 for permit violations and hunting out of season, said Elaine Makatura, spokeswoman for the New Jersey Department of Environmental Protection.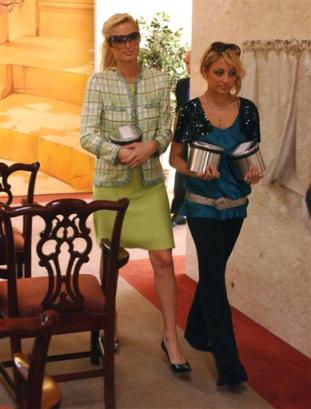 In this undated photo supplied by Fox Television, hotel heiress Paris Hilton, left, and co-star Nicole Richie test their internship skills at a funeral home in the Mortuary episode of Fox's 'The Simple Life 3: Interns.' This season's episodes will have the pair traveling the country trying their hand as interns at various jobs. This episode airs on Wednesday Feb. 2, 2005. [AP]

Todd Beck, a spokesman for Bunim-Murray Productions, which produces "The Simple Life," said no one connected to the show was involved in shooting the deer.

The reality show, which features Hilton and Richie working in a series of menial jobs, was earlier prohibited from filming a segment at a nearby school after parents complained that Hilton's lifestyle was not a good role model for children.




| | |
| --- | --- |
| | |
| Love also a personal matter for stars | |

| | |
| --- | --- |
| | |
| Zhang Mi | |

| | |
| --- | --- |
| | |
| Pitt and Aniston separate | |
Today's Top News
Top Life News

China, US talk to resolve textile disputes




Olympic deadlines draw nearer




Securities watchdog gets IPOs back on track




First SARS vaccine trials a success




Probe lands on Saturn moon; sends photos




Graner convicted in Iraqi prisoner abuse