China, US talk to resolve textile disputes
By Dai Yan (China Daily)
Updated: 2005-01-15 00:47
China and United States had talks on Friday on textile trade issues, a sign that the two countries are moving towards solving the sticky problem between them.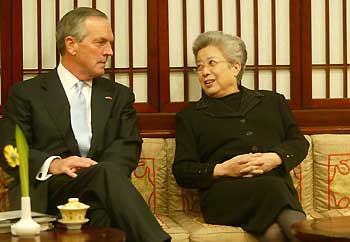 Vice-Premier Wu Yi meets with and holds a banquet for Donald L. Evans, US secretary of commerce, in Beijing. They both attended an IPR roundtable yesterday and later exchanged views on the prospects of bilateral trade and commerce. [newsphoto]

"Positive and sincere" talks took place between top Chinese and US trade officials in a bid to resolve their textile trade disputes.

According to a statement issued to China Daily by the Chinese Ministry of Commerce, the Beijing meeting was attended by Chinese Vice-Minister of Commerce Gao Hucheng and Grant Aldonas, the US under-secretary of commerce for international trade.

The statement said both sides have agreed to each appoint a liaison officer specially for the textile issue, to ensure an open communication channel and the smooth flow of information.

Textile trade quotas were removed among World Trade Organization (WTO) members on January 1. This is a move that will benefit both China and the United States, said the statement.

"Both sides promise to carry out dialogue and co-operation at government and industry levels, to enhance mutual understanding and trust," the statement said.

But the statement failed to say whether the two senior officials touched on the issue of safeguards at the meeting.

The Bush administration has been under growing pressure to consider imposing safeguard measures against Chinese textiles like shirts, trousers, sheets and some underwear, while the Chinese Government insists these moves are against WTO rules.

The ball is now in the US Government after the Court of International Trade in New York issued a preliminary injunction recently which blocks the administration from considering petitions, filed by US textile retailers.

The statement, however, has already delivered a positive signal in terms of addressing the textile trade problem rather than escalating frictions, said analysts.

"I believe the issue will progress to a positive conclusion if both sides are willing to sit down and solve the problem through more communications and negotiations," said Cao Xinyu, deputy director of the China Chamber of Commerce for the Import and Export of Textiles.

"We welcome such a positive move," he told China Daily.

He believed the situation will improve if both sides commit themselves to the stable development of the textile trade and focus on long-term benefits.

"Even the US domestic manufacturers are at odds on how to treat Chinese textile imports," he said, adding co-operation is a better way and the chamber will make more suggestions about this.

Many textile manufacturers are worried that lifting of textile quotas will mean that Chinese textiles will swamp their markets, though these fears have yet to be confirmed by facts.

In an attempt to appease these manufacturers, Beijing announced last month that it will collect export tariffs on 148 types of clothing, ranging from 0.2 yuan to 0.3 yuan (2.4-3.6 US cents) for every piece or set.

Major Chinese textile companies, who support the tax, said they would rather enter the global textile market gradually.

Some of them have set up several price co-ordinating panels to monitor export orders.

These panels were set up in categories in which the US Government has already imposed safeguard or is considering to do so, said Cao.