Talks on charter flights to start Saturday
(Xinhua/China Daily)
Updated: 2005-01-14 16:19
The Chinese mainland and Taiwan will hold talks Saturday in Macao about technical and business issues on opening Spring Festival charter flights across the Taiwan Straits, according to the Mainland sources.
At the invitation of Pu Zhaozhou, vice chairman of the board of directors of the mainland-based straits aviation exchange commission, a four-member delegation from an air transport association in Taipei will attend the meeting.
The Mainland delegation, which also comprises four members, is scheduled to arrive in Macao Friday afternoon.
Call for official talks on charter flights rejected
Beijing Wednesday rejected Taipei's call for official talks on details of direct cross-Straits charter flights for the upcoming Spring Festival.
He Shizhong, director of the Economic Bureau with the Taiwan Affairs Office of the State Council, said the involvement of mainland and Taiwanese airlines and airline associations should be sufficient.
"I can say in a clear and responsible manner that members of the Taiwan Affairs Office and the Association for Relations Across the Taiwan Straits will not attend the talks," he told a routine news conference.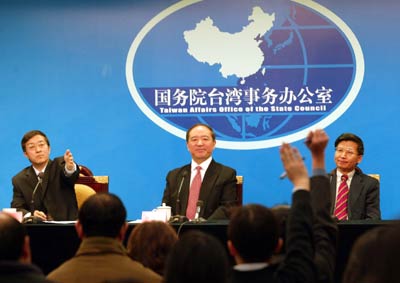 (From left to right)Li Weiyi, spokesman for the Taiwan Affairs Office of the State Council, He Shizhong, chief of the Department of Economy under the office and Pu Zhaozhou, a senior official with the General Administration of Civil Aviation of China attend a news conference on cross-Straits charter flights in Beijing January 12, 2005. [newsphoto]

So it would be "inappropriate, impractical and a demonstration of insincerity" for Taipei to expect its officials to take part in the negotiations.

The senior official made the comments in response to Taipei's demands for government talks to pave the way for the participation of mainland carriers in direct charter flights for the Chinese Lunar New Year, which falls on February 9 this year.

The island wants members of its "mainland affairs council" and semi-official Straits Exchange Foundation to act as advisers for Taiwanese negotiators.

Beijing, however, has refused any contact with the pro-independence Democratic Progressive Party administration headed by Taiwan leader Chen Shui-bian.

He said this year's direct charter flight programme can be handled as a special arrangement, which does not have to involve an official aviation agreement.

Letting airline associations across the Straits work out technical and business details is the "most convenient, practical and feasible" model for negotiations, he stressed.

Meanwhile, excluding government officials from the talks can help avoid unnecessary political interference and facilitate a smooth discussion between airline associations from both sides.

"It is out of question to get prepared for realizing direct charter flights in time for the this year's Spring Festival as long as the Taiwan authorities show sincerity on the issue," said the official.

Pu Zhaozhou, executive director of the China Civil Aviation Association, told reporters that Beijing hopes to see the implementation of non-stop and round-trip charter flights by carriers from both sides this year.

To benefit hundreds of thousands of mainland-based Taiwanese business people who return to the island for family reunions, the mainland has agreed to expand flight destinations from Shanghai to more cities including Beijing, Guangzhou and Xiamen.

During the 2003 Spring Festival, only six Taiwanese airlines were allowed to operate indirect charter flights between Taipei, Kaohsiung and Shanghai, but with an inconvenient and illogical stopover in Hong Kong or Macao.

In 2004, the practice was grounded due to Taipei's insistence on the exclusion of mainland airlines from the cross-Straits charter flights.

If mainland airlines are allowed to run charter flights to Taiwan this year, it would be the first time for mainland commercial airplanes to land on the island since 1949.

Taipei has imposed a ban on shipping and air links with the mainland for more than five decades.








Today's Top News
Top China News

Foreign companies ask for no cut in tax favours




Talks on charter flights to start Saturday




Roundtable meeting focuses on IPR protection




Gambling with public funds faces crackdown




FDI jumped by 13% to US$60.6b last year




Intelligence future-gazers look at 2020