China-Japan forum to examine bilateral ties
(chinadaily.com.cn)
Updated: 2005-01-14 10:11
A China-Japan forum will be held in July in Beijing to help examine and promote bilateral relations, the organizers announced in Tokyo on Thursday.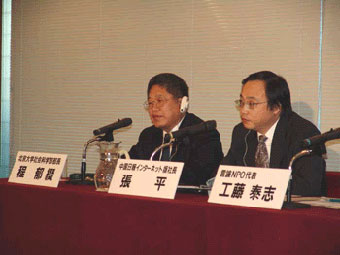 Zhang Ping (right), president of China Daily website, and Cheng Yuzhui from Peking University, speak and answer questions at the press conference in Tokyo January 13, 2005. [chinadaily.com.cn]

The forum, jointly organized by China Daily website (www.chinadaily.com.cn), a leading news portal in China, and Genron NPO, a nonprofit think tank in Japan, will become an annual event, to be held alternately in China and Japan.

Zhang Ping, president of China Daily website, said at the press conference Thursday that the cooperation between China Daily website and Genron NPO is meant to build a communication platform for better relations and mutual understanding between the peoples of the two countries.

At the Beijing forum in July, representatives and experts from the political, business and academic circles and the press from the two countries are expected to have frank and in-depth discussion and exchange of views on some major issues and obstacles in the current China-Japan relations and factors that have a bearing on the development of future relations.

As a prelude to the forum, large-scale questionnaire surveys are planned in the two countries to take pulse of opinions among the Japanese people towards Chinese (and the Chinese people towards Japanese) and their views and assessment of bilateral relations.

China Daily has invited Peking University's School of International Studies to help design the questionnaire and to participate in the forum.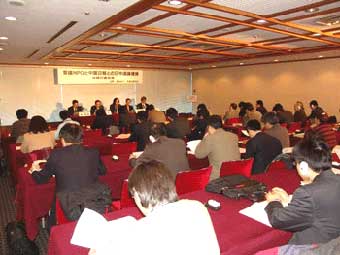 Some 40 journalists from major Japanese news organizations, including NHK and Kyoda News, cover the press conference on the China-Japan forum in Tokyo January 13, 2005. [chinadaily.com.cn]
Today's Top News
Top China News

Japanese textbook distorts history, stirs fury




Shops called to boycott Japanese goods




ADB: China's economy expected to grow 8.5%




400,000 to relocate for water project




Possible US textile safeguards draw criticism




Shrine visit angers both sides of Straits