Signs of recovery on shores battered by tsunami
(Agencies)
Updated: 2005-01-14 08:58
Signs grew on Thursday that towns and villages on the battered shores of the Indian Ocean were beginning to recover from the tsunami which all but swept them off the map.
But in the unprecedented, much-vaunted global rescue effort there were visible strains -- military, financial and religious.
Fears receded that diseases spread by contaminated water and other infections could kill as many people as the more than 150,000 who died in the freak waves on Dec. 26. Markets reopened and fishermen nervously cast their nets in the sea again.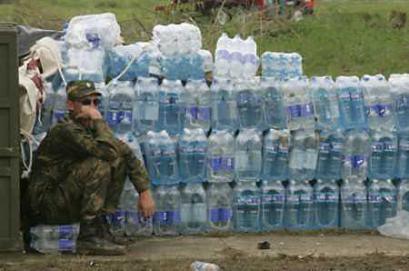 A Russian soldier rests in front of aid supplies at the airport in the tsunami-hit city of Banda Aceh on January 13, 2005. New security restrictions on tsunami relief in Indonesia were aimed only at ensuring the safety of foreigners, a government minister said on Thursday, aiming to allay fears that emergency operations could suffer.[Reuters]

Indonesia defended its controversial restrictions on the movements of foreign aid workers in the northern Sumatran province of Aceh, the region worst hit by the earthquake but also racked by a decades-old separatist conflict.

The United Nations appealed to Indonesia to lift its March deadline on foreign military relief operations in Aceh.

Indonesian leaders sent out mixed signals in response to Western states' interim freeze of debts owed by countries hit by the tsunami, while Sri Lanka said it might not go far enough.

The World Health Organization (WHO) said initial fears of epidemics were easing as most survivors now had access either to clean water or to water purification tablets.

"The risk of large numbers of fatalities from disease is beginning to fade ... I do not think we are looking at potential death from disease to match the tsunami," a WHO spokesman said.

Indonesia said on Thursday its restrictions on aid workers in Aceh were for their own safety, and voiced readiness to sit down with Aceh rebels to seek a cease-fire.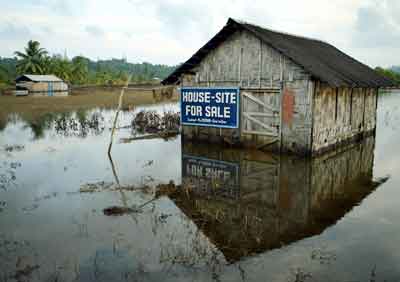 Damaged houses are seen submerged in water after they were hit by last month's tsunami in Port Blair, the capital of India's Andaman and Nicobar archipelago January 13, 2005. [Reuters]

"If someone is shot from a United Nations agency, the whole United Nations agency will withdraw," Aceh chief administrator Alwi Shihab told reporters. "Who will be responsible if a foreigner is kidnapped? The responsible party is us."

Jakarta has long been edgy about any foreign presence in Aceh, where separatists have fought the army for three decades for a homeland on Sumatra island's northern tip.

The rebels insist aid workers are safe from them and have offered a cease-fire to help reconstruction. Each side accuses the other, however, of starting clashes which threaten the distribution of aid.

MASS BURIALS

In a grim sign of progress, Aceh Vice Governor Azwar Abubakar said that by Thursday relief workers had buried 75,500 bodies from the disaster.

More markets opened in the provincial capital Banda Aceh, where excavators cleared debris and bodies from the streets.

To the west, across 1,000 miles of ocean, fishermen in the Sri Lankan coastal town of Beruwela cast their nets for the first time since the tsunami, saying they had been too afraid to go down to the sea before.

Of the 158,000 killed, more than 100,000 were in Aceh, over 30,000 in Sri Lanka, 15,000 in India and 5,300 in Thailand.

The White House said it planned to expand the U.S. tsunami warning system and join an international effort to create a global warning network of 54 countries.

Australia, the United States, Singapore, Malaysia, Germany, Spain, Pakistan, Japan and Switzerland have troops in Aceh.

"You can rest assured that we welcome even ... foreign troops. Their presence is based on our request," Indonesian Foreign Minister Hassan Wirajuda said in Berlin.

On Wednesday, the Indonesian government had said all foreign troops should leave the country by the end of March.

"I am sure the Indonesian government will agree with me the most important thing is to save lives and not have deadlines," U.N. emergency relief coordinator Jan Egeland said in New York.

After meeting Wirajuda, German Economy Minister Wolfgang Clement said there was a "great reticence" in Indonesia over the debt moratorium announced by creditor nations.

He said Indonesia did not want to do anything which called into question its ability to repay debts.

The 19 Paris Club of sovereign creditors have agreed an initial three-month debt moratorium while the World Bank and the International Monetary Fund assess the cost of recovery.

Jakarta owes $48 billion to Paris Club creditors and is due to pay them $4.5 billion in principal and interest this year.

Sri Lanka, which has multilateral and bilateral debt amounting to $8.82 billion, was less enthusiastic. Colombo had hoped for at least a two-year freeze and still hoped for outright debt forgiveness, a presidential spokesman said.

POVERTY

The Asian Development Bank said nearly two million people could fall into poverty as a result of the tsunami, one million in Indonesia alone. The number of poor in India could rise by 645,000 and in Sri Lanka by 250,000.

The global response to the disaster has been unprecedented. Governments have promised $5.5 billion in aid, with individuals and corporations pledging at least $2 billion more.

World Trade Organization head Supachai Panitchpakdi urged states to help Indian Ocean countries recover by using trade measures. "Obvious possible areas... will be market access and some restraint in the use of trade remedies," he said.

The British embassy in Jakarta was closed on Thursday after a bomb threat, the Foreign Office said. Indonesia has seen several bomb attacks against Western targets in recent years.




Today's Top News
Top World News

Bilateral meeting sign of progress on IPR protection




Expressway planned to link Beijing, Taipei




Investors ask for no cut in tax favours




Straw to discuss arms ban in Beijing




Malaria threat emerges in tsunami zone




Gambling with public funds faces crackdown