Malaria threat emerges in tsunami zone
(Agencies)
Updated: 2005-01-14 08:10
Health officials plan to go door to door and tent to tent with mosquito-killing spray guns beginning Friday to head off a looming threat that one expert says could kill 100,000 more people around the tsunami disaster zone: malaria.
The devastation and heavy rains are creating conditions for the largest area of mosquito breeding sites Indonesia has ever seen, said the head of the aid group anchoring the anti-malaria campaign on Sumatra island. The pools of salt water created by the Dec. 26 tsunami have been diluted by seasonal rains into a brackish water that mosquitos love.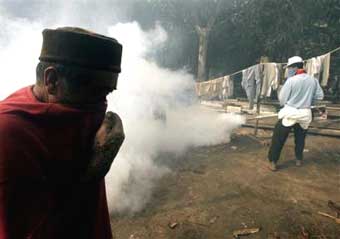 A refugee covers his face as a volunteer fumigates a refugee camp Thursday, Jan. 13, 2005 in Banda Aceh, Indonesia. As the threat of cholera diminished by the day because clean water is increasingly getting to tsunami survivors, the danger of malaria and dengue fever epidemics is now beginning to skyrocket, experts say. [AP]

While the threat of cholera and dysentery outbreaks is diminishing by the day because clean water is increasingly getting to tsunami survivors, the danger of malaria and dengue fever epidemics is increasing, said Richard Allan, director of the Mentor Initiative, a public health group that fights malaria epidemics.

The death toll from the earthquake and tsunami has topped 157,000 across 11 countries after Indonesia added nearly 4,000 more to its tally. Allan warned that an outbreak of malaria could take an additional 100,000 lives around the Indian Ocean if authorities don't act quickly.

"The combination of the tsunami and the rains are creating the largest single set of (mosquito) breeding sites that Indonesia has ever seen in its history," he said Thursday in an interview with The Associated Press.

Asked about World Health Organization warnings that disease could double the tsunami death toll across affected areas, Allan said: "If anything, I think they are being conservative. Three-quarters of those deaths could be from malaria."

The World Health Organization said Thursday that seven cases of malaria have been confirmed in Aceh province. They are popping up now both because malaria season is just beginning and because a reporting system has been put in place over the last few days.

Relief workers in Aceh province on Sumatra island, meanwhile, warned that new rules requiring them to travel with armed escorts could cause bottlenecks in delivering aid and compromise their arms-length status from Indonesia's military.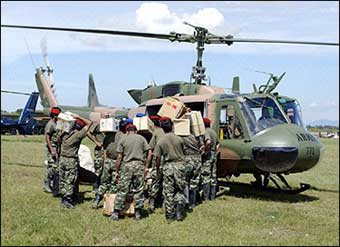 This picture released by Pakistan's Inter-Service Public Relations (ISPR), shows Pakistani army doctors and paramedics loading medicines and other equipment onto a helicopter to be transported to the tsunami victims at Lamna, a small town, some 80 kms north of Banda Aceh. [AFP]

"We discourage such actions because it blurs the distinction between humanitarian and military efforts here," said Eileen Burke of Save the Children.

Burke said her group has so far had no escorts — or problems — with their work in Sigli, about 60 miles from the provincial capital, Banda Aceh.

Rebels who have waged a low-level war for a separate homeland in northern Sumatra for 30 years reaffirmed their commitment to a cease-fire they declared hours after the tsunami.

Still, there have been unconfirmed reports of isolated skirmishes between Indonesian soldiers and rebels since the tsunami.

Vice President Jusuf Kalla said the government welcomed the rebels' declaration of a cease-fire. "Of course we welcome it. Indonesia will also make efforts toward it," Kalla said in Jakarta, the capital.

Indonesia's moves — which include an order that aid workers declare their travel plans or face expulsion — highlight its sensitivities over foreign involvement in the humanitarian effort, especially that of foreign troops.

Indonesia wants foreign troops out of the country by late March. The United States has the largest presence by far in south Asia with about 13,000 troops — almost all offshore.

However, State Department spokesman Richard Boucher said Indonesian authorities had informed the United States there is no departure deadline for U.S. troops.

"Nobody is asking us to go home," Boucher said. "The Indonesian statement about three months, they tell us, was intended as an estimate about how long the military part of the operation might be necessary."

The Committee to Protect Journalists on Thursday protested the restrictions on aid workers, which also apply to reporters. "Unrestricted access to information is absolutely crucial during this relief effort," CPJ Executive Director Ann Cooper said. "We call on Indonesian authorities to drop the restrictions immediately."

U.N. humanitarian chief Jan Egeland said the overall tsunami relief effort was progressing well except in Sumatra, where "huge problems" remain.

"It is still an uphill battle in the region," Egeland said in New York.

Survivors among the tens of thousands living in refugee camps in Banda Aceh have welcomed the foreign troops, who have been flying helicopter aid missions to otherwise inaccessible areas and running field hospitals.

"If they leave, we will starve," said Syarwan, 27, a tailor who is living with some 45 relatives under a tarp at a camp.

The cornerstone of the anti-malaria offensive is an insecticide spraying operation, where fumigators will walk from house to house in all neighborhoods of Banda Aceh.

They will spray the walls and put a small chalk mark on the outside of the front door as they leave so that no homes are left out and locations covered can be accurately mapped.

The tents in the refugee camps dotted around the city will also be sprayed, but those are home to only a tiny fraction of the population. Most people have been taken in by other families.

In communities along the west coast of Sumatra where almost all buildings were wiped out, the main defense will be pesticide-impregnated plastic sheeting, which villagers use for shelter.

"This will be the first situation where there is an incredible threatening epidemic and where if we get everything in place without obstruction ... we have a chance of stemming the starting point of an epidemic which otherwise will undoubtedly happen," Allan said.

Although malaria is endemic in the area, meaning it is widespread under normal circumstances and the local population is used to getting repeatedly infected, that does not provide protection from any outbreak that might emerge from the tsunami.

"They are even more likely to get sick. A lot of them have already got diarrhea, poor nutrition. They are stressed, they've got multiple infections already and their immune systems are weakened," Allan said. "Any immunity they had is gone."




Today's Top News
Top World News

Bilateral meeting sign of progress on IPR protection




Expressway planned to link Beijing, Taipei




Investors ask for no cut in tax favours




Straw to discuss arms ban in Beijing




Gambling with public funds faces crackdown




Train ticket price to be raised on Feburary 1