Gambling with public funds faces crackdown
By Zhang Feng (China Daily)
Updated: 2005-01-14 08:07
Party and government officials and heads of companies who misappropriate public funds for gambling are major targets of a government crackdown on gambling along China's borders, said Bai Jingfu, vice-minister of public security.
The nationwide campaign will be carried out in the first five months of 2005, said Bai.
Such gambling venues have been traditionally located in China's Southeast Asian neighbours.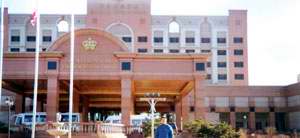 Hong Kong-built Emperor Hotel and Casino in Rajin-Sonbong, DPRK. [Beijing News]
However, in recent years, more have been established across the border in Russia, the Democratic People's Republic of Korea (DPRK), the Republic of Korea and even Mongolia, said Wang Hongjun, a professor from the Chinese People's Public Security University in Beijing.
Wu Mingshan, an official in charge of the crackdown, was quoted by China Central Television as saying these casinos now number nearly 200.
Moreover, these sites clearly cater for Chinese clientele as gambling is forbidden in their respective countries, and cross-border visits by Chinese are encouraged, said professor Wang.
Most of the visitors to these border casinos are Chinese residents, according to Bai.
"Most of the gambling with illegal money overseas is done by corrupt officials," Wang said.
Some experts estimated that about 600 billion yuan (US$72 billion) is spent in overseas casinos by Chinese annually, which is regarded as "seriously exaggerated" by Wang.
But despite this, Wang said the figure is still huge as corrupt officials tend to become wasteful with public money.
For example, Cai Haowen, a transportation official of Yanbian Korean Autonomous Prefecture in Jilin Province, gambled away nearly 3 million yuan (US$360,000) in public funds in the DPRK last year.
Cai, who is only a low-level official, remains at large.
The Ministry of Public Security will take steps to strengthen border control and destroy the lures set by overseas gambling dens to pull in Chinese custom, Bai said.
However, the most important measure must be taken in fighting official corruption and managing public money, professor Wang said.
Today's Top News
Top China News

Bilateral meeting sign of progress on IPR protection




Expressway planned to link Beijing, Taipei




Investors ask for no cut in tax favours




Straw to discuss arms ban in Beijing




Malaria threat emerges in tsunami zone




Gambling with public funds faces crackdown