Straw to discuss arms ban in Beijing
By Qin Jize (China Daily)
Updated: 2005-01-14 08:04
British Foreign Secretary Jack Straw is to discuss the prospect of an end to the European Union's arms embargo on China with his Chinese counterpart during his official visit to the country next week, said a Chinese Foreign Ministry spokesman.
Kong Quan said yesterday in a regular briefing that Straw's two-day visit, which starts on Thursday, is an important part of the negotiation mechanism between the foreign ministers of the two countries.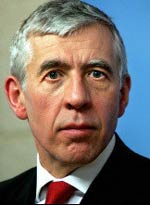 Jack Straw. [file photo]

"The two sides will talk about the lifting of the EU's arms embargo on China and China will require the EU to recognize the nation's full market economy status," Kong said.

The British Foreign Secretary said on Wednesday that the EU's 15-year-old arms embargo will almost certainly be lifted within the next six months.

Kong said China is now in its presidency of the Group of Twenty while Britain holds presidency of the Group of Eight, and will hold the EU's rotating presidency in the second half of the year.

He said the common challenges the two countries are facing require further understanding between the two sides to make efforts for world peace and stability.

"The two countries will work together to promote the comprehensive strategic partner relationship between China and the EU," he said.

Kong said Deputy Prime Minister and Minister of Foreign Affairs Hon Sato Kilman of the Republic of Vanuatu will start an eight-day official visit to China on Monday.

He said the visit is a key step in the relationship between the two countries, and that China hails the new government's belief in the one-China policy.

He said Vanuatu has attached importance to the Sino-Vanuatu relationship and the two countries will continue to develop their relationship.

Kong also announced that Deputy President Rowseh Nuri Shaways of the Iraqi Interim Government will also visit the country.

The pledged material aid, wor-th US$1 million, to Iraq for its election, will arrive in Baghdad today as the Chinese Government continues its commitment to assist Iraq, the Foreign Ministry said on its website.




Today's Top News
Top China News

Bilateral meeting sign of progress on IPR protection




Expressway planned to link Beijing, Taipei




Investors ask for no cut in tax favours




Straw to discuss arms ban in Beijing




Malaria threat emerges in tsunami zone




Gambling with public funds faces crackdown