Black Hawk crash in Colombia kills 20
(Agencies)
Updated: 2005-01-14 00:55
A Black Hawk helicopter crashed Thursday during a counternarcotics mission in the jungles of southwest Colombia, killing all 20 soldiers aboard, the army said.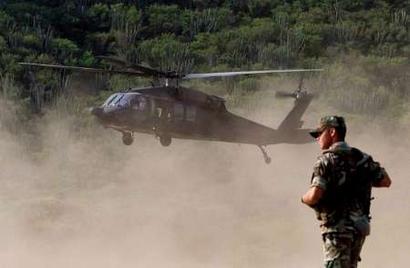 File photo of a Black Hawk helicopter taken in Colombia, on September 16, 2003. [Reuters]

The helicopter, used in the U.S.-funded anti-drug effort called Plan Colombia, went down just after midnight near the town of Tumaco, 230 miles southwest of the capital.

Early investigations indicate the crash occurred due to "bad weather," according to the army statement.

The Black Hawk that went down was part of an assault mission that included seven other aircraft, the statement said.

Army chief Gen. Reinaldo Castellanos told local radio the area is crawling with guerrillas from the Revolutionary Armed Forces of Colombia, or FARC. The rebels often fire on government helicopters that fly over territory under rebel control, but Castellanos said this likely wasn't the case in Thursday's crash.

Castellanos said he was leaving Bogota immediately to head to the crash site.

The 20 dead included six officers, the army said.

It was the highest death toll from a helicopter crash in Colombia since February 2003, when a Colombian army Black Hawk crashed in the mountains of northern Colombia, killing 23 crewmembers and elite troops. That crash apparently was caused by bad weather.

Colombia's military began a major offensive last year aimed at wiping out the FARC and a smaller leftist group or forcing them to the negotiating table.

The FARC, which has been fighting the Colombian government for 40 years, uses drug trafficking to finance its insurgency.

In the past five years, Washington has provided more than $3.5 billion in hardware, training and logistics planning toward Plan Colombia, which aims to wipe out drug production and trafficking in Colombia.




Today's Top News
Top World News

Bilateral meeting sign of progress on IPR protection




Expressway planned to link Beijing, Taipei




Investors ask for no cut in tax favours




Straw to discuss arms ban in Beijing




Malaria threat emerges in tsunami zone




Gambling with public funds faces crackdown