Troop escorts ordered for aid workers
(Agencies)
Updated: 2005-01-13 20:37
Relief organizations said a new demand made by Indonesia on Thursday that foreign aid workers have army escorts in tsunami-stricken Aceh province will hamper aid delivery and blur the lines between the military and humanitarian efforts.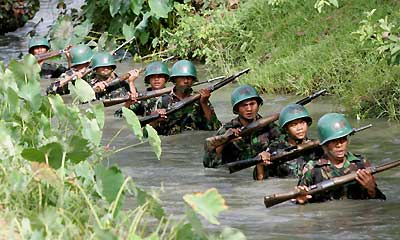 Acehnese soldiers walk through a stream during a recruit training in the tsunami-hit city of Banda Aceh January 13, 2005. [Reuters]

Rich creditor nations, meanwhile, offered a moratorium on payments on billions of dollars owed by tsunami-hit nations. Indonesia, Sri Lanka and the Seychelles expressed initial interest in the Paris Club's proposal, but Indonesia's foreign minister later said accepting the offer could hurt the country's credit rating.


The chief of UNICEF in Sri Lanka said Tamil Tiger rebels had recruited three children living in tsunami refugee camps to be soldiers. It wasn't immediately clear how old the children were or if their parents survived the tsunami. Ted Chaiban said UNICEF was working for their release.

Relief groups reported having no security problems in Aceh, where rebels have fought a low-level separatist war against government troops for three decades, and some worried that the new restrictions could harm their reputation for independence.

"We discourage such actions because it blurs the distinction between humanitarian and military efforts here," said Eileen Burke of Save the Children.

Rebel leaders reaffirmed their commitment to a cease-fire they declared hours after the Dec. 26 earthquake that sent killer waves fanning out across the Indian Ocean, killing more than 150,000 people in 11 nations.

Indonesia's vice president on Thursday welcomed the cease-fire offer. "Indonesia will also make efforts toward it," Jusuf Kalla said at the vice presidential palace.

Indonesia's restrictions — which include an order that aid workers declare their travel plans or face expulsion — highlight its sensitivities over foreign involvement in the humanitarian effort, especially that of troops from the United States, Australia, Singapore and Japan.


The security measures represent an effort to regain control of Aceh and Sumatra island's western coast, where more than 106,000 people were killed. Before the disaster, the military controlled Aceh with a tight grip, and foreigner journalists and aid workers were barred. Widespread rights abuses were reported.


The U.S. ambassador to Indonesia on Thursday urged Jakarta and rebels to negotiate peace. "Both sides should get together quickly, negotiate a settlement and get on with rebuilding Aceh," ambassador B. Lynn Pascoe said.


In India's remote Andaman islands, battered by the tsunami, Red Cross officials said relief supplies had disappeared from the docks in Port Blair, the territory's capital, and were later found to have been taken by government workers.

"They hijacked our relief material," said Basudev Dass, joint secretary of the Indian Cross Society. "They want to take all the relief material and distribute it. We are very clear that we will go and distribute it to the real beneficiaries."

But Federal Tribal Affairs Minister P.R.Kyndiah, who toured the region this week, insisted the relief work was going well and said there were no serious complaints.

In southern Thailand, where nearly 5,700 were killed — half of them foreigners — Thai survivors were still trickling into refugee camps from outlying island villages almost three weeks after the disaster.

Pantip Ruengnat, 17, sat in a tent with relatives, cradling her 6-month-old cousin, whose parents perished, two of more than 2,000 residents of Nam Khem village killed by the waves. About 4,000 Thais were in cramped conditions the camp at Bang Muanf, which lack basic supplies, including baby formula and tents.

"We just want a house, equipment to make a living and milk for the baby," said Pantip.

The Asian Development Bank, meanwhile, said in a report that the tsunami could throw nearly 2 million people in Asia into poverty if sanitation and health concerns are not quickly addressed.

Indonesian military spokesman Col. Ahmad Yani Basuki said the army considers only the areas around the provincial capital Banda Aceh and the stricken coastal town of Meulaboh safe for foreigners.

"Other areas aside from that are potential trouble spots," he said. Anyone going to the troubled zones must take military escorts. But Basuki warned: "We don't have enough personnel to secure everyone."

Security fears have also restricted aid deliveries in Sri Lanka, where Tamil rebels have accused Indian and U.S. forces of being sent to spy on them.

The 19-member Paris Club's offer to let nine countries hit by the tsunami halt repayments on billions of dollars of debt would "allow these countries to dedicate all available resources to address humanitarian and reconstruction needs," said Jean-Pierre Jouyet, chairman of the group of wealthy nations.

Indonesian Foreign Minister Hassan Wirajuda said his country preferred grants, according to German Finance Minister Hans Eichel, who met with Wirajuda in Berlin.




Today's Top News
Top World News

Bilateral meeting sign of progress on IPR protection




Expressway planned to link Beijing, Taipei




Investors ask for no cut in tax favours




Straw to discuss arms ban in Beijing




Malaria threat emerges in tsunami zone




Gambling with public funds faces crackdown