Beijing-Taipei expressway planned -- minister
(people.com.cn)
Updated: 2005-01-13 16:25
Chinese Communications Minister Zhang Chunxian revealed Thursday that the country is planning to build an expressway between the capital city of Beijing and Taipei.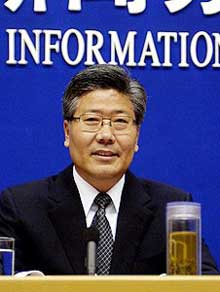 Minister of Communications Zhang Chunxian speaks at a press conference in Beijing January 13, 2005. Zhang said an expressway will be built to link up Beijing with Taipei when the three direct links are realized between the two sides of the Taiwan Straits. [Xinhua]

"This has been included in a new expressway network plan mapped out by China," he told a press conference held by the Information Office of the State Council, China's cabinet.

From now to 2030 China will complete work on 85,000 kilometers of expressways at an estimated cost of 2 trillion yuan (US$242.1 billion) in total, including one from Beijing to Taipei, Zhang said.

When the exchanges of mail service, trade and air and shipping services across the Taiwan Straits, or the so-called three direct links, are in place, the Chinese mainland and Taiwan will be connected by expressway networks, he said.

A certain means of transport, being tunnels or other projects, could be adopted to link the expressways of the two places, in a certain period of time under the prerequisite of three direct links, the official said.

Zhang noted, "the significance of the expressway to Taipei lies in logistics."

"Sound logistics are of great realistic importance in helping Taiwan, Hong Kong and China's mainland lower costs and sharpen competitive edges and upgrading the living conditions for every resident (in the places)."

China's planned national expressway network will also stretch to Hong Kong and Macao, including the Hongkong-Zhuhai-Macao Bridge that the two special administrative regions (SARs) have shown great interest in.

The move will benefit the prosperity and stability in Hong Kong, help Hong Kong reduce logistics costs more and promote the integration of the economies of Hong Kong, Macao, the Pearl River delta and the inland economy, the minister said.

Two trillion yuan for 85,000-km-expressway

China will invest 2 trillion yuan (US$241 billion) in the 85,000-kilometer-expressway network scheduled to be built in the coming 30 years, according to the minister.

Formed by seven lines from Beijing, nine lines from north to south and 18 from east to west, the network will connect all cities with a population above 200,000. By the end of 2004, 34,000 kilometers of expressway had been in use in China.

From now to 2010, the annual investment will run from 140 billion yuan (US$17 billion) to 150 billion yuan (US$18 billion), while from 2010 to 2020, the annual investment will be around 100 billion yuan (US$12 billion), said Zhang.

The construction fund will come from vehicle purchase tax, feesand taxes collected by local governments, state bonds, domestic investment and foreign investment, said Zhang.




Today's Top News
Top China News

UK sees China arms embargo lifted before July




Call for official talks on charter flights rejected




Tete-a-tete improves China-US military ties




China rules out JV cigarette factories




Beijing-Taipei expressway planned -- minister




US ends fruitless Iraq weapons hunt