China rules out JV cigarette factories
By Zhang Lu (China Daily)
Updated: 2005-01-13 15:56
China will not allow the establishment of new cigarette factories including foreign-funded ones, the State Tobacco Monopoly Administration (STMA) insisted yesterday.
Speaking at a press conference, administration spokesman Xing Wanli said: "The country's current cigarette manufacturing capacity exceeds market demands, and the establishment of new cigarette factories will not be approved."
Xing's statement comes as especially bad news for British American Tobacco (BAT).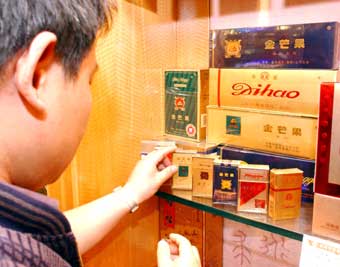 A customer chooses a pack of cigarette at a store in Zhengzhou, central China's Henan Province in this June 22, 2004 file photo. The State Tobacco Monopoly Administration said no new cigarette factories, including JV plants, will be allowed in China. [newsphoto]

The global cigarette giant is currently lobbying local governments around China, trying to persuade them to approve the establishment of a joint venture company in China.

BAT even claimed last July that the Chinese Government had approved the establishment of an 800-million-pound (US$1.5 billion) joint venture in the country. But this was strongly denied by the STMA.

Xing added that foreign firms will not be allowed into the nation's cigarette distribution sector either.

As cigarettes are classified as a special product, the industry will continue to employ the monopoly system and cigarette sales will continue to be monopolized by the China Tobacco Co, added Xing.

China's tobacco industry, which was restructured in recent years, enjoyed steady growth in 2004, according to Xing.

STMA statistics show the country produced 1,873.59 billion cigarettes last year, up 4.7 per cent year-on-year.

And 1,877.86 billion cigarettes were sold in 2004, 4.5 per cent up year-on-year.

Thanks to this steady growth, the industry made over 210 billion yuan (US$25.4 billion) in pre-tax profits last year, an increase of 45 billion yuan (US$5.4 billion) year-on-year, almost double the figure in 2000.

"The rapid growth is mainly contributed by the industry's smooth and efficient restructuring, " said Hu Xinhua, deputy director at the STMA General Office.

"Sixteen provincial-level companies and an industry development centre under the China Tobacco Co were established on schedule by the end of last year," Hu said.

And the administration had closed all small cigarette producers annually manufacturing less than 100,000 cartons of cigarettes.

"Through the restructuring, the number of tobacco enterprises decreased to 57 from 84 at the end of 2003, and key enterprises showed their competitiveness," he said.

Last year, the production and sales of the 36 top cigarette brands grew year-on-year by 26.2 per cent and 31.8 per cent respectively.

The production and sales figures of the industry's key manufacturers were 6 per cent and 7.2 per cent.




Today's Top News
Top China News

UK sees China arms embargo lifted before July




Call for official talks on charter flights rejected




Tete-a-tete improves China-US military ties




China rules out JV cigarette factories




US ends fruitless Iraq weapons hunt




3G mobile go-ahead scheduled for 2005