Vietnam confirms fourth bird flu death
(Agencies)
Updated: 2005-01-13 13:54
Vietnam confirmed on Thursday that an 18-year-old woman from southern Vietnam died of bird flu, the country's fourth death from the virus in two weeks.
The woman from Hau Giang province died Monday, more than a week after she slaughtered a chicken.
Dr. Phan Van Tu, chief virologist at the Pasteur Institute in Ho Chi Minh City, said tests showed she had the fatal H5N1 strain of the virus that ravaged poultry farms across 10 countries in Asia last year, jumping to humans in Thailand and Vietnam.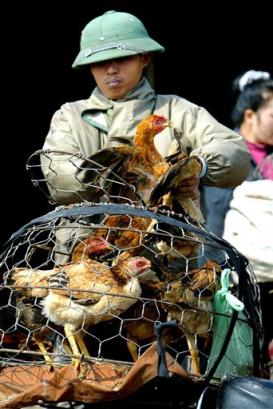 A Vietnamese chicken vendor loads a basket with chickens onto the back of his motorbike at a market in central Hanoi, Vietnam in this Jan. 25, 2004 file photo. Vietnam confirmed on Thursday, Jan. 13, 2005 that an 18-year-old woman from southern Vietnam died of bird flu, the country's fourth death from the virus in two weeks. [AP/File]

Vietnam said one other woman being treated at a hospital has also tested positive for the disease, which is re-emerging in Asia at a vulnerable time.

Thousands are homeless after a tsunami devastated countries elsewhere in Southeast Asia on Dec. 26, killing 150 people in 11 nations.

The World Health Organization in Geneva said earlier this week that surveillance is being stepped up in some areas.

But "there is no proof so far that the tsunami has caused any increased pandemic risk," said Klaus Stohr, WHO's influenza chief, adding that the situation could change if bird flu spreads to disaster-hit regions.

Speaking at a conference Thursday, Health Minister Tran Thi Trung Chien said urgent measures were needed to stop the spread of the disease.

"The situation requires works to prevent bird flu to be carried out immediately with strong, resolute and effective measures," she said.

Medical experts fear bird flu might mutate and create the world's next influenza pandemic. So far, there has been no concrete evidence of human-to-human transmission of the disease. Most patients have had contact with sick birds.

Bird flu has killed 24 people in Vietnam and 12 in Thailand in the last year.

Health experts have warned that the bird flu virus was entrenched in Asia, and would take years to eradicate. The World Health Organization reiterated those warnings Thursday.

"The enemy is more elusive, more entrenched and the price of failure may be even higher," said Hans Troedsson, WHO representative in Vietnam.

Vietnam has reported three other bird flu deaths in recent weeks, the first since September. A 6-year-old boy died Dec. 30, a 9-year-old boy died Jan. 4, and a 16-year-old girl died Saturday.




Today's Top News
Top World News

UK sees China arms embargo lifted before July




Call for official talks on charter flights rejected




Tete-a-tete improves China-US military ties




China, Portugal sign seven pacts




US ends fruitless Iraq weapons hunt




3G mobile go-ahead scheduled for 2005