S.Korea's Roh sees nuclear talks when bush team set
(Agencies)
Updated: 2005-01-13 11:44
Stalled six-party talks on North Korea's nuclear program could resume as soon as President Bush finishes putting together his new diplomatic team, South Korean President Roh Moo-hyun said on Thursday.
Conditions were ripe for those talks but not yet for a summit between himself and North Korean leader Kim Jong-il, he told a televised 80-minute New Year news conference at his presidential Blue House compound. The chances of a North-Summit were low.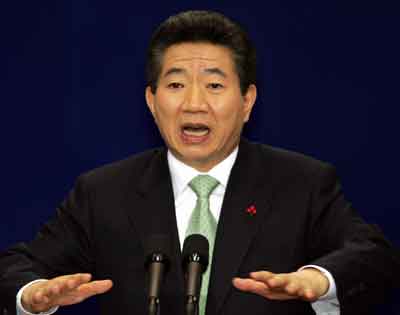 South Korean President Roh Moo-hyun answers a reporter's question during the first news conference of 2005 at the presidential Blue House in Seoul, January 13, 2005. [Reuters]

On the economy, the key concern for most South Koreans, Roh said depressed private consumption and investment would begin to pick up from the second half of this year bolstered by government efforts to stimulate the economy.

He also said South Korean troops would stay in Iraq until allies were satisfied their mission was complete.

"I think the conditions are ripe for the six-party talks to open," Roh said of the nuclear talks that bring together the two Koreas, China, Japan, Russia and the United States.

North Korea dodged a fourth round scheduled for September and says it is waiting to see what Bush's policy will be after Bush's Jan. 20 inauguration.

"I don't think we have any specific obstacle for the six-party talks to occur but I cannot tell you specifically when the six-party talks will take place because I don't want to give you a wrong date," Roh said through an official interpreter.

"When the U.S. diplomacy team is organized we will start to see some movement or action."

PLANS TO REDUCE DEBT BURDEN

He said he would do his best for the talks to succeed.

"A negative projection and scenarios we should follow if the situation turns sour are things I do not wish to mention at all."

On the economy, Roh also said the government would release by the end of March plans to help reduce the debt burden on households, which has held back private consumption in Asia's third-biggest economy.

"Through these plans, the economy will begin to come out of the slump in domestic consumption and investment and regain vitality," Roh said in a speech before taking questions at the news conference, noting government moves to bring forward a greater amount of fiscal spending in the first half of 2005.

"The government will also strive to foster a better environment for companies to invest so they can boost spending with vigor," he said.

The remarks came shortly before the country's central bank, the Bank of Korea, decided to leave interest rates unchanged this month. It cut the overnight call rate target in August and November to a record low of 3.25 percent to try to prop up a sluggish economy relying mainly on exports.

The central bank has forecast economic growth will slip to 4.0 percent this year from 4.7 percent estimated for 2004, but the finance ministry has promised to do whatever is necessary to achieve 5 percent growth in 2005.

Heavy household debt, a legacy of a government-fostered credit card boom in 2002, has been behind a two-year slump in consumer spending holding back a broad recovery in the economy.

Central bank data shows South Korean households owed 441.2 trillion won ($423.4 billion) to financial institutions at the end of September 2004, amounting to about two-thirds of the country's annual GDP or 28 million won per household.




Today's Top News
Top World News

Beijing rejects call for official talks on charter flights




UK sees China arms embargo lifted in July




Minister: Sino-US trade ties 'pretty good'




China, Portugal sign seven pacts




US ends fruitless Iraq weapons hunt




3G mobile go-ahead scheduled for 2005