Torrential storm tears up US western states
(Agencies)
Updated: 2005-01-13 08:41
The torrential storm that caused the deadly mudslide in California is leaving a path of destruction in other Western states, bringing flooding that has gobbled up homes and washed out roads.
The heaviest flooding was concentrated in the area where Nevada, Arizona and Utah meet. No serious injuries were reported, but one man was missing in Utah. A skier was missing for a third day in the deep snow of rugged western Colorado.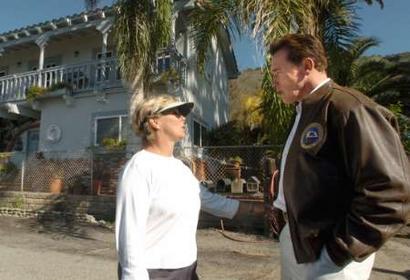 California Governor Arnold Schwarzennegger (R) talks to La Conchita, California resident Karen Oren who has lived in the seaside community for 36 years and asked the governor not to declare the area condemned, January 12, 2005.[Reuters]

In California, Gov. Arnold Schwarzenegger on Wednesday surveyed the devastation caused by a huge mudslide that killed at least 10 people. The overall death toll in California from the storms is 28 people.

Floodwaters from a swollen river rose in this small Nevada town about 50 miles from Las Vegas on Wednesday, even as evacuated residents started returning home.

An estimated 100 homes were damaged, destroyed or cut off by flooding in the Overton area. A police helicopter had to rescue three people after they became trapped in their cars and homes.

Roaring waters also snatched 21 parked freight cars from a nearby Union Pacific train, said company spokesman John Bromley. One car was carrying appliances and the rest were empty.

Overton resident Melanie Vallet said her family fled early Wednesday when water reached their front door.

"The family, the dogs, the chickens ¡ª everyone's safe," Vallet said.

Emergency officials sent 45 tons of sand, 2,000 sandbags and other assistance to the town. Officials of Clark County, which includes Las Vegas, had declared an emergency in response to the flooding.

Authorities estimated about 350 homes had been evacuated in Overton and other nearby communities.

In Arizona, some residents started returning home to the Beaver Dam area in the far northwestern corner of the state as the sky cleared, but getting there was tricky.

An 80-foot stretch of the main road had been washed out and emergency crews were at work Wednesday grading a 22-mile-long detour along a dirt back road for the area's 1,400 residents. Electricity, phones, drinking water and sewers had been severed in parts of the community.

"I'm just glad that no one's been injured so far," said resident Linda Whittier, 55. She and her husband spent Tuesday night at a casino in nearby Mesquite, Nev., that donated rooms for flood refugees.

Harold Whittier, 58, said that before they left Beaver Dam he saw the high water destroy one house.

"I heard it go ka-boom, and the roof was floating," Harold Whittier said.

The flooding damaged or destroyed 22 homes in Beaver Dam and nearby Littlefield, said Jennifer McNally, a county health official.

Across Arizona, estimates of storm-related damages exceeded $6 million, a state emergency management spokeswoman said.

The flooding had destroyed as many as 18 homes in southwestern Utah and made at least five bridges impassable, and some officials said damage could be more widespread than initially thought, said Brian Garrett, deputy director of the state Division of Emergency Services and Homeland Security.

In Utah, Washington County Sheriff Kirk Smith took a helicopter into the town of Gunlock on Wednesday to meet with residents who were isolated because both bridges to the town were washed out.

"We're trying to see what we can do for them," Smith said. "They're pretty shell-shocked."




Today's Top News
Top World News

Beijing reject call for official talks on charter flights




UK sees China arms embargo lifted in July




Minister: Sino-US trade ties 'pretty good'




China, Portugal sign seven pacts




US ends fruitless Iraq weapons hunt




3G mobile go-ahead scheduled for 2005