Tete-a-tete improves China-US military ties
By Sun Shangwu (China Daily)
Updated: 2005-01-13 08:41
Sino-US relations are today in a good period but the two militaries still need better communications and to find areas for co-operation, said former US Secretary of Defence William Cohen on Tuesday.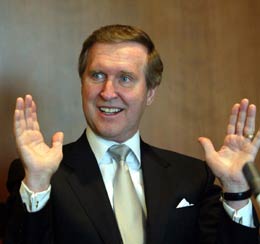 "Progress started in my period as Secretary of Defence. Secretary (William) Perry (Cohen's predecessor) initiated better relations with China. We want to improve relations in the field of maritime affairs and I tried to do everything we could to increase our exchanges," recalled Cohen, who served from 1997 to 2001 in the Clinton administration.
He made the remarks in an exclusive interview with China Daily in Beijing.
"We try to find ways to reduce tensions, increase understanding, find ways to co-operate in areas such as rules of the seas and rules that should govern our respective behaviour," he said.
Secretary Cohen visited China in January 1998 and signed the agreement with China on establishing the consultation mechanism to strengthen military maritime safety.
There are areas where the military of the two countries can co-operate, such as overseas peace-keeping and humanitarian relief work, he said.
"That is my objective, and that could be continued during the Bush administration," he added.
Cohen called for the two militaries to have an open attitude towards each other so as to increase transparency.
"We want senior military officials to be able to communicate with each other," he said. "Each country can look at the other to satisfy itself in terms of what is the capability, what is the motivation, what is the intention."
The two militaries need to work on those kinds of things "very closely" to make sure each side could have as good an understanding as possible so that "we do not misinterpret any signs or signals or activities," he added.
Cohen admitted that there will be competition between the two countries.
"We are going to compete in a variety of areas... we should try to look for areas we can co-operate on," said Cohen, citing such issues as terrorism, weapons of mass destruction and the spread of nuclear technology as examples.
"There is the area we are going to co-operate, there are the areas where China is going to be helpful, this is in our mutual security interest," he added.
Cohen disclosed that the US military has proposed setting up a hotline with its Chinese counterpart to allow senior military officials of the two countries to "contact with each other in order to avoid or avert crises."
The two countries "need close and quick communications" to make sure they can "defuse the crises quickly," he added.
China and the US must take actions, step by step, to reduce suspicions, said Cohen, admitting it is difficult because of relations in the past and wars.
"It is important to be open, to talk, to meet, and try to find ways in which you can really work together," he added.
Greater role for China
Cohen said that China is going to play a bigger role in international affairs as a large and powerful country.
As a country it has great intellectual capital, has dynamic economic revival on the way and is going to be a major player in the world, according to Cohen.
"There are positive elements, namely, China recognizes its rightful place in the international community," he said.
With increasing economic power, China will inevitably shoulder social responsibility, said Cohen, citing assistance offered by China to tsunami-affected countries as an example.
China initiated the largest foreign assistance in its history following the natural disaster, which struck some Asian countries in the closing days of last year.
The total amount of assistance provided by the Chinese Government has been over US$83 million, not including that donated by private individuals and non-governmental organizations.
And during the financial crisis in Southeast Asia, China also played a very positive role, said Cohen.
The Chinese Government promised not to depreciate the value of its currency renminbi, which was hailed both by its struggling neighbours and the international community.
"I think what has to happen is that other countries have to say, see, what your capabilities are, and what your intentions are," said Cohen. "How do you define what you are thinking? Look by your actions; are you conducting your affairs through dialogue or through threats?"
When asked to comment on China's efforts to develop itself into an "open and responsible country" in the world, there "have been very positive developments," he said.
"We are living in the age of information... more information leads to greater understanding, less information leads to greater suspicion," he said, adding other countries had come to accept the emerging role of China in the world.
Direct cross-Straits flights
Turning to cross-Straits relations between the Chinese mainland and Taiwan, Cohen said the situation is improving.
"I think economic integration will bring about peaceful reconciliation. That has always been the hope," he said.
Cross-Straits trade has been increasing dramatically, with Taiwan enjoying a large margin of trade surplus.
The total trade volumes between the two sides reached US$58.37 billion, up 30 per cent over the previous year.
There is also a large Taiwanese community living on the mainland. It is reported that in Shanghai alone, there are about 600,000 Taiwanese.
Cohen said the Bush administration wants to maintain the status quo, meaning no unilateral action.
"Taiwan independence is not in the interests of Taiwan, and not in the interests of China and the US," he said.
Cohen endorsed the idea of direct cross-Straits flights which the two sides are currently discussing to ease travel during the traditional Chinese lunar new year Spring Festival.
"Travel makes narrow-mindedness impossible," Cohen remarked, quoting Mark Twain, the famous American writer.
When people have an open mind, dialogue and progress between the two sides will become much easier, he added.
Beijing has announced measures to push for the launch of two-way non-stop charter flights between the mainland and Taiwan.
However, political elements introduced by the Taiwan authorities continue to hinder the progress of negotiations.
Today's Top News
Top China News

UK sees China arms embargo lifted before July




Call for official talks on charter flights rejected




Tete-a-tete improves China-US military ties




China, Portugal sign seven pacts




US ends fruitless Iraq weapons hunt




3G mobile go-ahead scheduled for 2005