Attempt to speed up train traffic delayed
By Cao Desheng (China Daily)
Updated: 2005-01-13 01:19
The nation's attempt to speed up its railways for a sixth time is likely to be thwarted for technical reasons, a senior railway official said yesterday.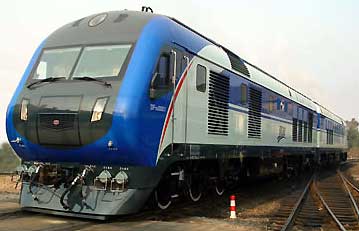 An undated file photo shows a home-made Dongfeng-11G locomotiv which is designed for the fifth speed-up of China's rail traffic.

The massive acceleration project, which had been scheduled to be launched in October, remains uncertain due to technical difficulties, said Railways Minister Liu Zhijun at the ministry's national conference, which opened in Beijing yesterday.

"The ministry cannot set a timetable for the project, at least it is impossible for 2005," Liu said. He said the ministry has set this year as "a preparatory period" for the project.

The nation's last railway speed increase was launched on April 18 last year with the speed of its major lines raised to 160 kilometres per hour.

The acceleration cut the travel time between Beijing and Shanghai, the two of the largest cities in China, from 14 hours to 12 hours.

"Compared with the fifth speed-improvement project, the sixth one involves more complicated technology and will become more difficult to operate," Liu said.

According to the speed-up plan, China will have more than 22,000 kilometres of railways with a speed above 120 kilometres per hour after it raises the speed for the sixth time.

Of the total, 5,300 kilometres will have a speed of 200 kilometers per hour, including the passenger lines such as Beijing to Shanghai, Beijing to Harbin and Lanzhou to Lianyungang.

Facing a host of new technical problems, the ministry has organized experts to complete related research, while regulations on railway management have also been upgraded, Liu said.

In the meantime, technical staff and managers are being trained to use the advanced trains introduced last year from foreign countries, according to the minister.

While preparing for the large-scale speed-up of trains, China will also increase economic input into railway construction.

China will invest 100 billion yuan (US$12 billion) to build railways in 2005, almost double that of last year, said Liu said.

Liu's ministry will launch 58 new projects and continue the 48 projects from 2004 within this year, involving the building of 714 kilometres of new lines, 523 kilometres of double track lines and 875 kilometres of electric rail routes.

Liu said his ministry will widen the financing channels to attract more capital from local governments, private businesses and overseas investment to ensure the financing of projects.

Moreover, the ministry will also seek more support from government bonds to build more railways in western and northeastern China, Liu said.

"It will be the ministry's top priority to break the rail bottlenecks," Liu said.

According to the ministry's estimates, the railway network will handle a total of 1.15 billion passengers, an increase of 31 billion over last year, and 2.7 billion tons of cargo this year, a jump of 200 million tons.

The nation's railway departments are preparing for massive passenger flows during the Chinese Lunar New Year, or Spring Festival, which falls on February 9 this year, when a large population of migrant workers, college students and others will travel home by rail.

During the 40-day Spring Festival travel period starting from February 1, ticket prices will float up 15 to 20 per cent, according to various types of seats.