UK sees China arms embargo lifted before July
(Agencies)
Updated: 2005-01-13 01:45
British Foreign Secretary Jack Straw said on Wednesday he thought the European Union's arms embargo on China could well be lifted by July. "I think it is more likely than not that it will be decided under this (Luxembourg) presidency of the EU," he told a parliamentary committee.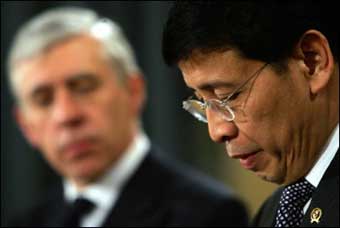 British Foreign Secretary Jack Straw (L) looks towards his Indonesian counterpart Hasan Wirjuda in this January 10, 2005 file photo. Straw signaled the intent of lifting the arms ban on China in the coming six months. [AFP]

Luxembourg holds the rotating EU presidency until mid-year when Britain takes over. The 25-member bloc is now drawing up a code of conduct on arms exports to guarantee greater transparency.

Straw argued the code of conduct would prove just as, if not more, effective in limiting the trading of weapons with China as well as with other countries.

France has led moves to scrap the embargo which could open up trade with the world's fastest-growing major economy.

"Our position is that, subject to satisfaction of the issues laid out by the EU, we will support a lifting of the arms embargo," said Straw.

He said he would aim to provide explanations and reassurances to Washington which adamantly opposes ending it.

US officials say they are not satisfied the mechanisms in the new code of conduct will provide sufficiently solid blocks on transfers.

US Undersecretary of State John Bolton, a hardliner on arms control, is meeting British officials this week to press the case for keeping the embargo.




Today's Top News
Top China News

UK sees China arms embargo lifted before July




Call for official talks on charter flights rejected




Minister: Sino-US trade ties 'pretty good'




China, Portugal sign seven pacts




US ends fruitless Iraq weapons hunt




3G mobile go-ahead scheduled for 2005