Tung highlights growth, harmony in address
By Tonny Chan (China Daily)
Updated: 2005-01-13 01:19
Chief Executive Tung Chee-hwa yesterday showed a resolve to instilla people-based culture in the government as he pledged to use the remainder of his term to consolidate the economy, help the underprivileged and promote social harmony in his eighth Policy Address.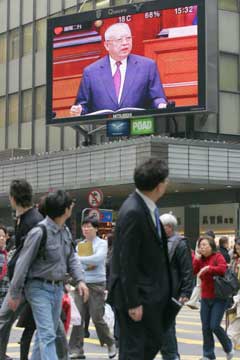 Hong Kong residents on a downtown street catch a glimpse of HK Chief Executive Tung Chee-hwa on a giant TV screen as he made his 2005 policy address to the Legislative Council January 12, 2005. [newsphoto]

Themed "Working Together for Economic Development and Social Harmony," the address highlights initiatives that included, among others:

* Supporting the vision of "people-based" governance with HK$60 million over three years for public policy research and with a more prominent role for District Councils in resolving local problems;

* Maintaining social harmony with increased community participation in public affairs;

* Assigning Financial Secretary Henry Tang to lead the commission to find a solution to the poverty problems facing families dependent on public assistance;

* Creating a more favourable business environment for construction, real estate and retail activities;

* Promoting cultural and creative industries and urban renewal as new anchors for economic growth; and

* Facilitating environmental industry and studying legislation on recycling.

Tung said the principal reason for the special administrative region(SAR) to emerge from its economic doldrums was its unique advantages in Asia under the "One Country, Two Systems" arrangement that has enabled it to continue to be a highly liberal and diverse society under the rule of law.

Tung said the central government had given Hong Kong staunch support during difficult times and the increasing pace of modernization in the mainland and increasing market opportunities there provide strong impetus to the SAR's economic growth.

He admitted that in the past, officials had not been sensitive enough to people's feelings when making policies.

"Government policies and measures to deal with the bursting of the real estate bubble and the serious fiscal deficit no doubt caused the public pain and unease. In retrospect, our mindset was inadequately prepared for the dual impacts of political change and (the) economic downturn," Tung said.

"This was reflected in our failure to establish the vision of 'people-based' governance," he said.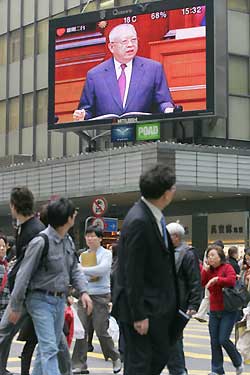 Hong Kong residents catch a quick glimpse of Hong Kong Chief Executive Tung Chee-hwa on a giant TV screen downtown as he makes his 2005 policy address to the Legislative Council yesterday. [newsphoto]

"After much soul searching and a review of the successes and failures of our governance, my colleagues and I have taken stock of experience gained and lessons learnt. We have taken heed of public criticisms of our governance and responded positively to people's aspirations," he said.

He said the government was committed to the vision of "people-based" governance.

"I have asked the principal officials to fully support the district officers to enable them to function more effectively. We will deliver on the 'people-based' service culture, pay constant attention to public aspirations and respond actively," he pledged.

To keep close to the community, Tung has identified 11 areas of most concern to the public, ranging from employment, the plights of the poor and needy, to sales tax, population policy, and the West Kowloon Cultural District.

Tung categorically rejected criticisms by some political parties that the government had been "colluding" with the business community to transfer benefits. "If there is evidence as such, you must report (it) to the Independent Commission Against Corruption," he said at a post-address news conference.

Looking ahead, Tung said the SAR's economy would reach a stage of post-recovery consolidation and growth this year.

On constitutional development, Tung said political reform would adhere to the Basic Law and the interpretation and decision made by the National People's Congress Standing Committee in April last year.

"We firmly believe as long as we can maintain prosperity, stability and social harmony, our democratic constitutional system can develop at a faster pace and the ultimate aim of universal suffrage as set out in the Basic Law can be achieved at an early date," he said.

The community and business sector generally welcomed the Policy Address yesterday.

Jenny Lam, an accounting clerk from Pok Fu Lam, told China Daily she agreed with the need to maintain social harmony. "Let's wait and see. There are so much to be done," she said as she collected a flier of highlights from a distribution counter in Wan Chai.

Mr Lee, a 70-year-old from Wan Chai, said it was right for Tung to take heed of the elderly's needs.




Today's Top News
Top China News

Beijing reject call for official talks on charter flights




UK sees China arms embargo lifted in July




Minister: Sino-US trade ties 'pretty good'




China, Portugal sign seven pacts




US ends fruitless Iraq weapons hunt




NASA launches comet-smashing spacecraft