Minister: Sino-US trade ties 'pretty good'
By Yan Yang (China Daily/Xinhua)
Updated: 2005-01-13 01:19
Commerce Minister Bo Xilai told the outgoing US Secretary of Commerce Donald Evans that Evans' work to promote China-US trade ties was "pretty good" during his four-year tenure.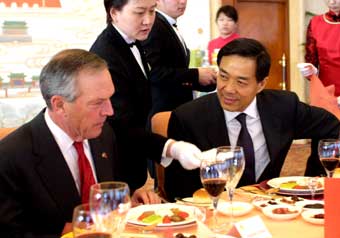 Don Evans and Bo Xilai talk business when they have a lunch together in Beijing January 12, 2005. [newsphoto]

But Bo said it is regretful that the United States did not grant China the market economy status in Evans' stint in his key presidential cabinet post.

"I would say that 70 per cent of what Evans has done is pretty good," said Bo.

To Bo, that grade is actually a high mark, given that the late Chinese leader Deng Xiaoping only gave himself a grade of 70 per cent.

But Bo believes it is regretful that Washington has failed to grant the market economy status to China under Evans.

Bo said granting such status will prove the United States is "willing to promote its trade with China on a free and fair footing."

Market economy status is usually used when anti-dumping cases are judged, and not having it makes it easier for US companies to win anti-dumping charges aimed at Chinese goods.

Bo and Evans met yesterday. Evans began a three-day visit to China on Tuesday.

Evans, a close personal friend of President George W. Bush, said trade and economic relations between the United States and China have progress positively in seven aspects.

Addressing a breakfast event co-sponsored by the American Chamber of Commerce in China and the US-China Business Council, he said China is America's fastest growing export market, and US agricultural exports to China are expanding dramatically.

Chinese companies are increasingly investing in the US and the country as a whole is making progress toward satisfying its World Trade Organization commitments.

China provides important help to the United States on international security issues, he acknowledged, and the two countries are achieving productive co-operation through the Sino-US Joint Commission on Commerce and Trade.

China and the United States have reached accord on difficult issues like wireless network standards, he said.

"All of us can be encouraged by the deepening relationship between our two countries and China's engagement with the whole world," Evans said, adding that China and the United States have been the two engines of growth during a global economic downturn.

He said most of the people in the United States believe that improved US-China relations will continue to promote peace, prosperity and stability in the world.

Evans also mentioned some trade frictions that exist between the two nations, expressing his hope that the problems will be resolved appropriately.

"We look forward to developing a higher standard of economic co-operation with China that can level the playing field," said Evans, who said he wanted to return to his home state of Texas when he announced his resignation.

He is due to attend a round table on intellectual property rights today.

Carlos Gutierrez, head of US cereal giant Kellogg Co, is Bush's nominee to replace Evans. He is awaiting Senate approval to take office later this month.




Today's Top News
Top China News

UK sees China arms embargo lifted before July




Call for official talks on charter flights rejected




Tete-a-tete improves China-US military ties




China, Portugal sign seven pacts




US ends fruitless Iraq weapons hunt




3G mobile go-ahead scheduled for 2005