Yanukovych delays challenging election
(Agencies)
Updated: 2005-01-12 20:53
KIEV, Ukraine - Representatives of the loser of Ukraine's presidential election said Wednesday that they would delay filing complaints challenging Viktor Yushchenko's victory because the hundreds of volumes of documents were not yet ready.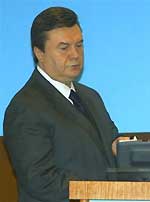 Viktor Yanukovych, the losing candidate in Ukraine's presidential vote, makes his statement in Kiev, Ukraine Tuesday, Jan. 11, 2004. [AP]

Viktor Yanukovych, the pro-Russian former prime minister, has refused to concede defeat in the Dec. 26 election awarded to Yushchenko. Yanukovych charges that the vote — a rerun of an annulled November vote — was filled with irregularities.

"We will file the complaint within a few days," Taras Chornovyl, Yanukovych's campaign manager, told reporters. Yanukovych's supporters had earlier said they would file the complaints to the Supreme Court on Wednesday.

"The documents are not ready yet," Chornovyl said. He added that the deadline for filing the complaints is next Tuesday.

Chornovyl announced that the appeal would consist of 621 volumes of documents and 240 videotapes that would prove election fraud on Dec. 26.

The final official vote count showed Yushchenko with 52 percent and Yanukovych with 44 percent. But the result must be approved by the Supreme Court and published in two official government newspapers before Yushchenko can be inaugurated, and the court said Tuesday it must first review Yanukovych's complaint.

"We believe in the Ukrainian (Supreme) Court ... we have other possibilities to protect our rights but we hope we will not have to use them," said Nestor Shufrich, Yanukovych's representative in the Central Election Commission.

Yanukovych's allies had warned earlier that his backers could pour into Kiev to stage massive protests and announced a possible complaint to a European court.

On Wednesday, hundreds of Yanukovych backers rallied in his hometown of Donetsk. The crowd, clad in Yanukovych's blue-and-white campaign colors, chanted anti-Yushchenko slogans.

The Dec. 26 election was a rerun of Nov. 21 fraudulent balloting in which Yanukovych was declared winner. The Supreme Court annulled the vote, which was followed by massive opposition protests dubbed the Orange Revolution after Yushchenko's campaign color.

Shufrich said earlier that the appeal would focus on an electoral reform enacted after the Nov. 21 vote that blocked absentee ballots and home voting — mechanisms that had allegedly been a prime source of voting abuse.

That reform was overturned by the Constitutional Court just a day before the Dec. 26 election, leaving little time for many old and ailing Ukrainians to make voting arrangements.

Ukraine's political tensions derive partly from an ethnic fault line between the country's east, which is heavily Russian-speaking, and the center and west, where Ukrainian nationalist spirit is strong.

Yanukovych supporters fear a Yushchenko presidency could marginalize Russian-speakers and stoke tensions with Moscow. Yushchenko has said he wants to nudge Ukraine closer to the NATO and the EU.







Today's Top News
Top World News

Beijing reveals plan for cross-Straits charter flights




Nation jumps to be world third largest trader




Hu offers systematic cure to corruption




Minister positive about Sino-US military ties




Draft law aims to hold back monopolies




Train ticket price to soar 20 per cent