Train ticket price to soar 20 per cent
(CRI)
Updated: 2005-01-12 17:09
With less than a month to go before the Spring Festival, China's railway departments are launching holiday transportation plans to the public, in an attempt to cope with the peak travel period.
This year the busy transport period around the time of the Chinese Lunar New Year, is expected to arrive within two weeks and will last for 40 days.
Millions of migrant workers and students are preparing to return to their hometown. Railway stations in many cities are already jam-packed.
China's Ministry of Railways estimates that the country's total railway traffic will reach nearly 140 million journeys.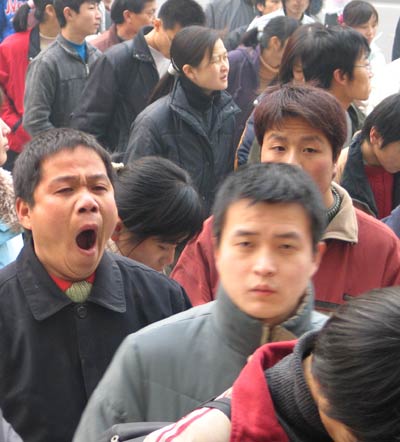 Passengers queue up to buy train tickets at a ticket booth in Xi'an, Northwest China's Shaanxi Province January 10, 2005. As the winter holidays for universities and colleges are coming, many students flock to the train stations or ticket booths for tickets in the run-up to Spring Festival, which falls on February 9 this year.[newsphoto]
A director from the ministry Wu Qiang says they have worked out various plans to direct the flow of passengers and react to emergencies.
"Before the holiday, the Ministry of Railways has sent out more trains to cope with the higher passenger numbers. Extra train services will also be added for travelers in major cities, such as Beijing and Guangzhou."
Another major concern for travelers is the price of tickets. The Ministry of Railways says passengers will see a price hike during the peak period, up by 15 to 20 per cent on the current rate.
Jiang Weiping is an official with the ministry in charge of price regulation.
"The average train ticket price this year is expected to soar by 15 to 20 per cent around the travel peak. Tickets for most popular destinations and routes could see a small rise. Though people have to pay extra, they will also receive better service. Some trains have been renovated and more attendants will be employed to keep railway stations in order."
In 2002, the State Development Planning Commission held a public hearing on ticket price rises during peak periods. It authorized railway ministries to increase average seat prices by 15 percent during the Spring Festival.
The authorization has been used for the past two years, as an effective pricing mechanism for rail transport.