Evans in Beijing to talk China-US trade
(newsphoto)
Updated: 2005-01-12 15:18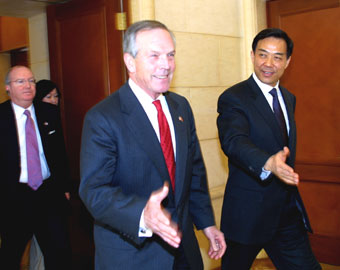 Chinese Commerce Minister Bo Xilai (right) and his US counterpart Don Evans walk out of the conference room after their meeting in Beijing January 12, 2005. Evans is in the Chinese capital to attend a China-US roundtable meeting on intellectual property rights, and is also scheduled to meet other Chinese leaders. [newsphoto]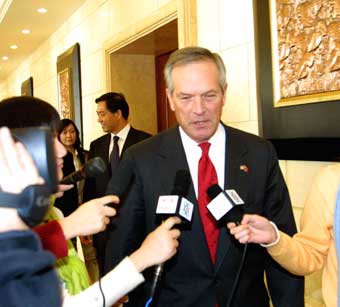 US Commerce Secretary Don Evans answers questions from reporters after meeting with his Chinese counterpart Bo Xilai in Beijing January 12, 2005. [newsphoto]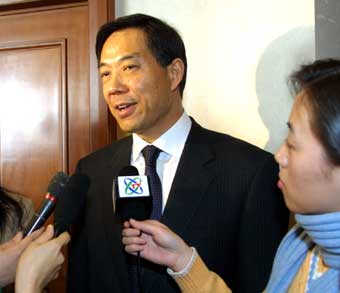 Chinese Commerce Minister Bo Xilai takes questions from journalists after meeting US Commerce Secretary Don Evans in Beijing January 12, 2005. [newsphoto]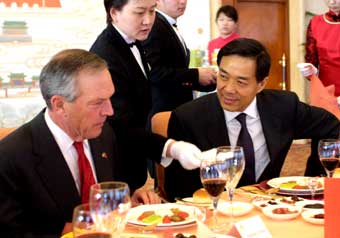 Don Evans and Bo Xilai talk business when they have a lunch together in Beijing January 12, 2005. [newsphoto]

The trade and economic relations between the United States and China has made positive progress in seven aspects, said visiting US Secretary of Commerce Donald L. Evans here Wednesday.
Addressing a breakfast party co-sponsored by the American Chamber of Commerce in China and the US-China Business Council, Evans explained the seven aspects.
He said China is America's fastest growing export market and US agricultural exports to China are expand dramatically. Chinese companies are increasingly investing in the United States and the country as a whole is making progress toward satisfying its WTO commitments.
China provides important help to the US on international security issues, he acknowledged, and the two countries are achieving productive cooperation through Sino-US Joint Commission on Commerce and Trade (JCCT).
China and the U.S. reached accord on difficult issues like the WAPI wireless network standard, he said.
"All of us can be encouraged by the deepening relationship between our two countries and China's engagement with the world," Evans said, adding that China and the United States have been the two engines of growth during a global economic downturn.
He said most of the people in the United States believe the US-China relations will continue to promote peace, prosperity and stability in the world.
Evans also mentioned some trade friction existing between the two nations, expressing his hope that these problems would be resolved appropriately.
"We look forward to developing a higher standard of economic cooperation with China that can level the playing field," he said.
Evans arrived in Beijing Tuesday afternoon for a visit as guest of US ambassador to China Clark T. Randt.
He will attend a Sino-US roundtable conference on intellectual property rights (IPR) scheduled for Thursday.
Meanwhile, Evans will meet Chinese leaders and confer with the relevant Chinese ministries and commissions on Sino-US trade and economic relations and other related issues.