Allawi admits some areas unsafe to vote
(Agencies)
Updated: 2005-01-12 08:44
Iraqi Prime Minister Ayad Allawi publicly acknowledged for the first time Tuesday that parts of Iraq probably won't be safe enough for people to vote in the Jan. 30 elections, and he announced plans to boost the size of the country's army from 100,000 to 150,000 men by year's end.
Violence persisted, with at least 16 Iraqis killed in two bombings and the seizure of trucks carrying new Iraqi coins. A U.S. soldier was killed in action in Iraq's volatile western Anbar province, the military said.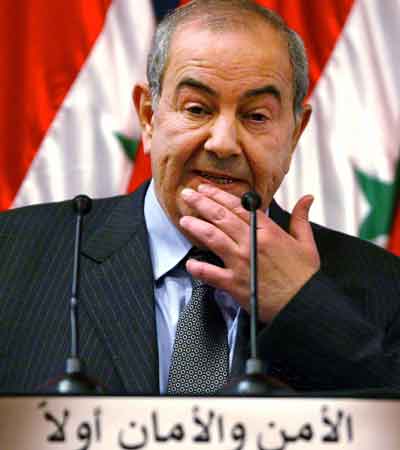 Iraq's interim Prime Minister Iyad Allawi speaks at a press conference in Baghdad January 11, 2005. Allawi said that Iraq will spend $2 billion in 2005 to boost its army and security forces in a bid to crush a raging insurgency. [Reuters]

Allawi discussed preparations for the election by telephone with US President Bush on Tuesday, and both leaders underscored the importance of going ahead with the vote as planned, White House spokesman Scott McClellan said.

The prime minister said at a news conference that "hostile forces are trying to hamper this event."

"Certainly, there will be some pockets that will not be able to participate in the elections for these reasons, but we think that it will not be widespread," Allawi said.

Anbar province — a vast area that stretches from west of Baghdad to the Jordanian, Syrian and Saudi borders — and the northern city of Mosul have seen little preparation for the vote because of tenuous security.

The capital also is experiencing an increase in insurgent activity, and residents of some districts may be reluctant to vote for fear of attacks on polling stations.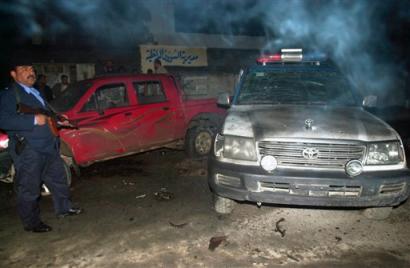 Iraqi police survey the scene after a car bomb explosion, late night Monday, Jan 10, 2005. Suicide attackers targeted an Interior Ministry office and a police station in the relatively quiet southern city of Basra on Monday night, wounding five policemen. [AP]

Others have cited concerns about the balloting. Late last week, Air Force Brig. Gen. Erv Lessel, the deputy chief of staff for strategic communications, said there were two provinces that give the Americans "significant concern" — Anbar, which includes the city of Fallujah, and Nineveh, which includes Mosul. He said the Americans were taking "aggressive action" to make sure the vote can be held there.

On Tuesday, Jordan's ambassador to Washington, Karim Kawar, warned that more than 40 percent of Iraqis would be unable to participate in the vote. "This raises questions about the authenticity of the elections," he said.

The election will be held under the system of proportionate representation, and there will be no electoral boundaries. Organizers have said those unable to cast ballots in troubled areas would be allowed to vote elsewhere.

Iraq's long-oppressed majority Shiites have embraced the election, which is expected to formalize their new status as the most dominant group in racially and religiously diverse Iraq. In contrast, the insurgency is led by members of the Sunni Arab minority. Some Sunni leaders say it is far too dangerous to hold the election this month, while influential clerics from the community are calling for a boycott.

On Tuesday, Allawi said the government was reaching out to tribal and religious leaders in some of Iraq's volatile areas to try to get them to participate in the vote. He said he expected the country to reach a "consensus" in the next two weeks that elections were necessary.

In Cairo, the Egyptian capital, Iraqi Foreign Minister Hoshyar Zebari said the government planned to meet with parties supporting the call for a boycott. He said an Iraqi non-governmental organization, the Iraqi Committee for Peace and Solidarity, is hosting a conference Sunday in Baghdad on reconciliation between the government and its opponents.

Iraq's U.N. Ambassador Samir al-Sumaidaie insisted that the vote go forward, telling CNN that elections would weaken the insurgents. He cautioned, however, that the elections would not end violence.

"At the moment the slogan which is raised is that (the insurgents) are fighting occupation," he told CNN. "An elected government will have sufficient legitimacy to deal with the situation."

Allawi is running in the election, which will produce a 275-seat assembly whose prime task would be to draft a permanent constitution.

The secular Shiite physician-turned-politician has been increasingly visible in recent days in the Iraqi and Arab media. Tuesday's news conference was his second in as many days. He stood before several Iraqi flags and signs that read "Security and Safety First." The signs were hurriedly put up by aides minutes before Allawi arrived.

The aides also assigned seats to the handful of reporters invited to cover the news conference on one side of the large conference room next to the 25 police and army officers in attendance. Video of the event only showed the occupied seats.

Allawi said ambitious recruitment drives will increase the size of Iraq's army to counter the intensifying insurgency.

Unveiling a $2.2 billion security blueprint for 2005, he said steps were being taken to buy modern weaponry for the army, increasing police and other security forces, creating a "small but very effective" air force, and boosting a fledgling coast guard.

"In reality, there is not a single task that's bigger or more important to the government than to create an army and internal security forces that guarantee us a safe life immune from fear," Allawi said.

"Our vision for the Iraqi armed forces is a smaller army, well-equipped and fully trained," he said. Saddam Hussein's army numbered about 400,000 on the eve of the U.S.-led invasion in March 2003. Poorly armed and demoralized, it swiftly collapsed as American and British troops swept across this Arab nation of nearly 26 million people in less than a month.

There have been questions about the combat readiness and commitment of postwar Iraq's army and security forces. They have been easy targets for insurgents who have killed hundreds of them in suicide bombings, ambushes and roadside bombs.

The condition of the Iraqi forces has meant that U.S. troops in Iraq have had to shoulder almost the entire responsibility for fighting the insurgency, forcing Washington to shelve any immediate plans for a reduction in the number of its troops deployed in Iraq, currently around 150,000.

Allawi said the additional 50,000 men expected to join the army would come from recruitment drives jointly launched with tribal leaders and from among former border security troops and members of Saddam's army.

No details were available about the U.S. soldier killed Tuesday except that the death occurred in Anbar province.

The death brought to 1,356 the number of American troops killed in Iraq since the invasion in March 2003. At least 1,069 died as a result of hostile action, the Defense Department said. The figures include three military civilians.

In Tuesday's violence, a roadside bomb hit a minibus full of Iraqis in Yussifiyah south of Baghdad, according to the director of the town's hospital, Dawoud al-Taie. He said the bomb went off minutes after a U.S. convoy had passed.

A suicide car bomber who targeted a police headquarters in Saddam's hometown of Tikrit killed six people, U.S. military spokesman Maj. Neal O'Brien said. Police said 12 people were wounded.

Later Tuesday, gunmen stopped three trucks carrying new Iraqi coins south of Baghdad and killed the drivers, stole the money and set the trucks on fire, a police official said.

The attack occurred near the town of Salman Pak, some 12 miles southeast of Baghdad. The trucks were carrying the money from the southern port city of Basra to the Central Bank of Iraq in Baghdad, the official said on condition of anonymity. It wasn't clear how much money was in the trucks.




Today's Top News
Top World News

Nation jumps to be world third largest trader




Hu offers systematic cure to corruption




Cross-Straits charter flight talks proposed




Draft law aims to hold back monopolies




Wintry Beijing tackles heating shortfalls




'Extremely critical' flaw threatens IE users