Hu offers systematic cure to corruption
(Xinhua)
Updated: 2005-01-12 01:52
Top leader of the Communist Party of China (CPC) Hu Jintao yesterday stressed the importance of anti-corruption and urged to prevent corruption by introducing both a temporary solution and a permanent cure.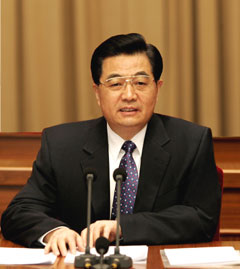 President Hu Jintao delivers a speech at a meeting of the CPC Central Commission for Discipline Inspection in Beijing January 11, 2005. [Xinhua]

Hu, general secretary of the CPC Central Committee, made the remarks at the fifth plenary session of the CPC Central Commission for Discipline Inspection.

Hu stressed the vital importance of fighting against corruption for keeping CPC's ruling status and vowed to take the anti-corruption work as one of CPC's major tasks for ever.

The CPC's ruling status and governance capability come from the people, the support from the people is the political basis and power source of the party, said Hu.

Hu said corruption is the most dangerous factor to weaken the CPC's ruling basis, lower its governance capability and shake its ruling status.

While pledging to continue cracking down on corrupt officials, Hu called for a system to regulate the use of power to "gradually remove the soil that generates corruption." The system should punish and prevent corruption through promoting education, in strict compliance with regulations and supervision.

The establishment of such a system is a major strategic decision based on conclusion of historical experience and scientific analysis on current situation.

"It is also the only way to prevent corruption under a socialist market economy," Hu said.

The leader urged that the anti-corruption work should continue focusing on leading officials who gained illegal individual interests by misusing their power and vowed to punished any officials involved in corruption cases.

He also called that the discipline inspection departments should improve their capability of fighting against corruption and the institutional construction on anti-corruption work should be strengthened.

All nine members of the Standing Committee of the Political Bureau of the CPC Central Committee attended the meeting, which opened on January 10.




Today's Top News
Top China News

Nation jumps to be world third largest trader




Hu offers systematic cure to corruption




Cross-Straits charter flight talks proposed




Draft law aims to hold back monopolies




Wintry Beijing tackles heating shortfalls




'Extremely critical' flaw threatens IE users