DNA to help solve ancient equine mysteries
(Xinhua/China Daily)
Updated: 2005-01-11 22:28
An archaeological project will be carried out to conduct a DNA analysis on a dozen horse skeletons unearthed from ancient burial tombs in Shaanxi, an inland province in Northwest China.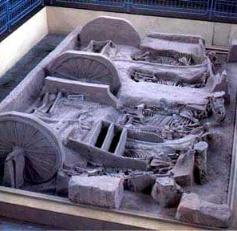 A file photo shows the horse skeletons and carts buried as early as between 1100 B.C. to 700 B.C near Xi'an,capital of Northwest China's Shaanxi Province. [newsphoto]

Just approved by the State Administration of Cultural Heritage, the effort is set to begin next month.

A joint Chinese and British team of scientists from the Shaanxi Provincial Institute of Archaeology, Peking University and Cambridge University will undertake the project, said Li Gang, a Shaanxi Provincial Administration of Cultural Heritage official.

Archaeologists have used a professional database to process and date material collected from the skeletons, including the size and weight of the skulls, spinal columns and limbs.

A Cambridge laboratory will be entrusted to carry out the DNA analyses, and the samples from the unearthed horses will be sent to Britain next month, said Sun Anna, a researcher with Shaanxi Provincial Institute of Archaeology.

"These unearthed skeletons were chosen as samples especially because they are more fresh and without any pollution," Li said.

These horses were unearthed last June from the burial site of a prominent duke who lived more than 2,500 years ago. They are well protected, Li said.

The tests should provide information such as the horses' bone mineral density and other trace elements, which may shed light on how the animals were fed and tamed, archaeologists say.

Experts say this will be the first comprehensive study on ancient Chinese horses, though sacrificial horses and carts are often found in northern China.

The find was made in Fengxiang County, 170 kilometres west of the provincial capital Xi'an, in the No 1 tomb of Duke Jinggong (577 BC-537 BC).

The Kingdom of Qin was one of the major power during the Spring and Autumn Period (770 BC-475 BC).

The duke's tomb was excavated between 1976 and 1986, during which time archaeologist found 3,500 valuable cultural relics even though it has been broken into by thieves and robbers more than 200 times.

Its funeral chamber, 24 metres from the surface, 16 metres long, 5.7 metres wide and 4.2 metres high, was separated by a wooden partition into two parts.

The chamber to the east was designed in imitation of the duke's office and rear chamber to the west as his dining room.

Fengxiang County is home to the graveyard where 17 other Qin dukes are at rest.




Today's Top News
Top China News

Nation jumps to be world third largest trader




Hu offers systematic cure to corruption




Cross-Straits charter flight talks proposed




Draft law aims to hold back monopolies




Wintry Beijing tackles heating shortfalls




'Extremely critical' flaw threatens IE users