Suzhou vice-mayor suspected in bribery case
By Cao Desheng (China Daily)
Updated: 2005-01-11 22:28
Jiang Renjie, the former vice-mayor of Suzhou in East China's Jiangsu Province, has become the latest suspect under investigation in a national campaign to fight corruption.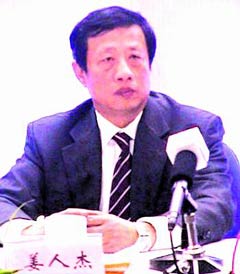 Jiang Renjie. [file photo]

Jiang, 56, was removed from his post by the Standing Committee of Suzhou Municipal People's Congress last Friday.

Jiang allegedly abused his powers by accepting bribes after he took the post of vice-mayor of Suzhou in February 2001. No details of charges have been released. He was in charge of the city's urban construction, transportation, communications and housing.

Jiang's case surfaced as the nation is intensifying its efforts to combat graft.

Meanwhile, Wang Yan, the assistant of mayor of Qingdao, a coastal city in East China's Shandong Province was sentenced yesterday to death with a two-year reprieve for taking bribes of 4.96 million yuan (US$599,000).

The central government is working to develop an anti-graft system that puts equal stress on legal punishment and prevention to eradicate the root of corruption.

Putting education, system construction and supervision at its core, the campaign is designed to prevent and combat corruption in governmental departments and institutions.

Guidelines have been established and supervision of government officials is being strengthened to restrict their powers so that effective anti-corruption mechanisms can be established.

Legal systems must be promoted to build clean government, according to the guidelines, and severe punishments will be imposed upon officials who are involved in malpractice or who seek personal interests.

Heavy blows will be given to corrupt officials involved in the field of finance, land management, material procurement, enterprise reorganization and the loss of state assets.

Party and government officials and judicial personnel who provide shelters for illegal behaviour will also be seriously punished.

The central government has been fighting corruption since August 1993, when an increasing number of graft-involved officials surfaced.

A series of systems and regulations have been mapped out to intensify the endeavor.

The 12 years of efforts have paid off, with a large number of corrupt officials led away in handcuffs.

According to a latest statistics from the Supreme People's Procuratorate, more than 42,000 state employees -- including 2,856 officials above county level -- were found to be involved in 36,509 cases of graft, dereliction of duty and other crimes investigated in the first 11 months of last year.




Today's Top News
Top China News

Nation jumps to be world third largest trader




Hu offers systematic cure to corruption




Cross-Straits charter flight talks proposed




Draft law aims to hold back monopolies




Wintry Beijing tackles heating shortfalls




'Extremely critical' flaw threatens IE users