Nation jumps to be world third largest trader
By Zhang Jin (China Daily)
Updated: 2005-01-11 22:04
China registered a 35.7 per cent surge in foreign trade last year, accounting for US$1.15 trillion exchanged, to become the world's third largest trading power behind the United States and Germany.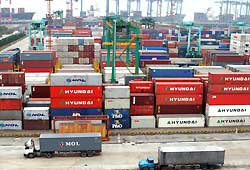 A file photo taken on Deceber 9, 2004 shows the operation of the port of Shanghai. [newsphoto]

According to the Ministry of Commerce, exports last year ballooned to US$593.4 billion, reflecting a year-on-year increase of 35.4 per cent. Imports rose 36 per cent to US$561.4 billion.

The yearly surplus came to US$32 billion, compared with US$25.5 billion in the previous year.

The nation underwent a trade deficit from January to August.

"China's imports rose sharply in the first half of the year," said Fan Ying, a professor with Beijing's Foreign Affairs University. "Blistering fixed-asset investments in certain sectors such as steel, real estate and construction have demand for raw materials soaring."

"Prices for steel, rubber, plastics and cotton have also skyrocketed," she said.

In April, the Chinese Government launched efforts to clamp down on overheated investment in selected sectors such as steel, alumina and cement.

Credit tightening and scrutiny over approval of land deals soon cooled down the investment spree and placed the growth of imports at a reasonable level.

Economists cited market liberalization and brisk economic growth, as the major reasons behind the strong growth of foreign trade.

"Chinese companies and individuals have been able to receive trading rights through registering since July 2004," said Fan Ying. "That has injected vigour in the market for millions of private, small and medium-sized enterprises."

And overseas firms have been allowed greater access to the nation's trading markets with shareholder requirements loosening.

At present, about 60 per cent of China's foreign trade is conducted through foreign-invested and private companies.

When the trade volume surpassed a landmark of US$1 trillion in November, Chong Quan, Ministry of Commerce spokesman, said China was set to follow the United States and Germany to become the world's third largest trader by volume.

Large but not strong

"China is a 'large' trader," he said.

But he confessed that the nation still has a long way to go before it becomes a "strong" trading power, since the country lacks a competitive global sales network and branded goods.

Minister of Commerce Bo Xilai last month urged Chinese exporters to enhance the quality and added value of their goods in a bid to sustain export growth.

Looking forward to this year's trade scenario, market observers say the growing momentum will remain strong, with global and domestic economic climates both conducive to China.

"China's opening-up of its markets to meet World Trade Organization commitments, domestic economic growth and the rallying of major world economies like the United States, Japan and the euro-zone, all bode well for Chinese imports and exports this year," Fan said.




Today's Top News
Top China News

Nation jumps to be world third largest trader




Hu offers systematic cure to corruption




Cross-Straits charter flight talks proposed




Draft law aims to hold back monopolies




Wintry Beijing tackles heating shortfalls




'Extremely critical' flaw threatens IE users