Artist's fat ladies make huge impression
(Agencies)
Updated: 2005-01-11 15:50
Fat naked ladies are all the rage these days in Singapore, where the largest ever international exhibition of famed Colombian artist Fernando Botero's works are on display in all their corpulent glory.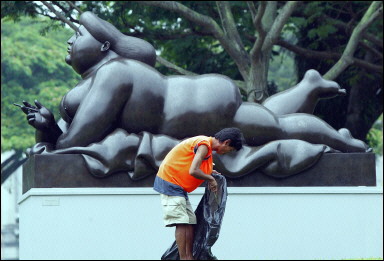 A worker collects litter around Botero's sculpture of a 'Fat woman with cigarette' displayed at a park in Singapore. Fat naked ladies are all the rage these days in Singapore, where the largest ever international exhibition of famed Colombian artist Fernando Botero's works are on display in all their corpulent glory. [AFP]
The 72-year-old Botero, known for oversized sculptures and paintings of ample-bodied figures, came to Singapore last month to launch the massive show of over 70 paintings and drawings and 36 sculptures spanning three decades.
It is all part of the Southeast Asian city-state's lofty ambition to become a global art exhibition hub, and follows major roadshows of other well-known foreign and historical artists in Singapore.
The Botero paintings, which include "Our Lady of Colombia" and the diptych "The President" and "The First Lady", as well as 14 smaller sculptures, are currently housed at the Singapore Art Museum.
Twenty-two of the monumental bronze sculptures for which he is probably best known are on display at Changi Airport and in outdoor locations around the glittering seaside Esplanade arts center.
Tens of thousands of Singapore residents and foreign visitors alike are expected to view his works by the time the exhibition ends on February 27.
"A lot of people are intrigued. Why does he keep painting fat people?" Singapore Art Museum curator Suenne Megan Tan told AFP.
It was that very question that brought 32-year-old Singaporean Derek Leong to the exhibition.
The industry analyst had never heard of Botero before, but was attracted by the glimpses he got of Botero's work in exhibition posters and advertisements.
"It's an interesting subject matter -- you seldom see full-bodied figures in art," Leong said.
Botero's work is not totally foreign to Singapore, a largely ethnic Chinese society where many women think they are overweight if they weigh more than 50 kilos (110 pounds), and slimming salons do a roaring trade.
The locally-based United Overseas Bank commissioned his sculpture "Bird", which has been sitting since 1990 outside the bank's headquarters along the Singapore River.
And "Bird" might soon be only one of a few Botero sculptures dotting the Singaporean landscape permanently.
Ten of the 22 monumental sculptures are for sale, costing between 700,000 and 850,000 US dollars each, and media reports said local buyers are interested in buying two of them.
The exhibition has also drawn a significant number of foreigners.
In fact, so many Latin Americans turned up at the launch of the showcase that Botero joked that he had never seen so many Colombians in his life, curator Tan said.
"The Latin American community was really overwhelmed by his presence here," she said.
"They queued to shake his hand and talk to him. To them, he is 'The Maestro' -- that's what they call him, 'The Maestro'."
But she was quick to add that the appeal of Botero's art extends to a universal audience.
Lie Kam Lay, 50, is proof of that: the Indonesian came to Singapore in December partly because he wanted to catch the exhibition.
"I knew of Fernando Botero, and I knew of this extensive exhibition, so that was one of the reasons why I came here," he said, pointing out the oil on canvas painting "Priest Walking" as his favourite, for the comical cross-eyed expression on the subject's face.
The massive exhibition was made possible by the Singapore government's pledge of more than 120 million US dollars over the next five years to the creative sector, in a bid to become a "global arts city".
With a population of only four million but tourist arrivals of eight million per year, strategically-located Singapore has much potential as an international showcase, making it an attractive venue for global artists eyeing Asia's growing ranks of collectors.
The Botero show comes in the wake of similar exhibitions of masterpieces from the Guggenheim Museum, Leonardo Da Vinci's works and Rodin's sculptures in Singapore, with more international shows in the pipeline.
| | |
| --- | --- |
| | |
| Pitt and Aniston separate | |

| | |
| --- | --- |
| | |
| Britney heads for university | |

| | |
| --- | --- |
| | |
| Pop diva Faye Wong to remarry | |
Today's Top News
Top Life News

Cross-Straits charter flights promising




Hopes for peace rise as Abbas wins votes




China tycoon donates $1.2m for tsunami aid




Yushchenko declared winner of Ukraine vote




12 missing after California mudslide




China baby pooh-poohs diaper ad offers