Hired 'guns' haunt college exams
By Pan Haixia and Gong Fang (Shanghai Star)
Updated: 2005-01-11 14:29
Take a cheat sheet into the exam room or have a peek at someone else's paper when the monitor isn't looking these common ways of cheating at tests can only be called mall potatoes now, given the hot new business of hiring a gunman?
A gunman is the nickname for someone who takes tests for others. As they must guarantee passing grades for their clients, gunmen must be good at answering exam questions if not well educated.
The business, illegal as it is, is growing at an unprecedented rate on campuses. With the CET-4 (College English Test Level 4) just a few days away, the gunman business has entered its big season.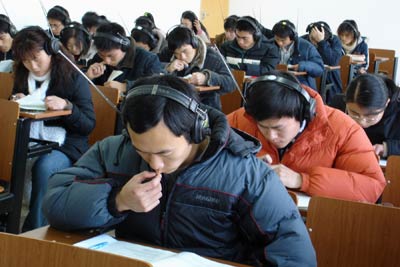 Colleges students take a CET4 test in Jiangsu, January 8, 2005. [newsphoto]
"I have seen several advertisements seeking gunmen for the CET-4 test on campus," said Shelly Xu, a student at a Shangahi foreign languages university.
According to regulations, those who fail to pass CET-4 will not get a bachelor degree no matter how good the performance in other subjects. Given the importance of the test, hiring a gunman is an attractive choice for many desperate students.
"Yet, instead of being discrete, the illegal business seems to have no shame. Advertisements were stuck almost everywhere, from the water boiler to the wall of the students' dormitory building. Even the toilet was not missed," said Xu.
Most of these ads were just small notices asking for people good at English to help take the test, with a mobile phone number to contact.
Fang Fei is one among the many students who read such advertisements and called back.
"I thought those who posted the advertisements might be desperate students who were too poor in English but eager to pass the exam," she said, "But actually many of them were put up by agencies which engaged themselves in arranging gunmen for other students. The reward they offered was quite tempting, 1,000 yuan (US$120) for passing the exam, a no-sweat task for English majors like me."
According to Fang, these agencies have many tactics to ensure the gunman is not detected at the exam.
First they ask the client student to send them a photo, and they try to find a similar looking gunman for him or her. Since it is impossible to find a match for every client, many agencies have started to make false ID cards and test cards. The false cards have the gunman's photo on it, while the code number is the client's" she said.
Other agencies, choose not to go to so much trouble, and simply work out arrangements with the education authorities or the test monitors.
Although there is no proof that the education authorities have colluded with these agencies, many of these agencies?advertisements on the Internet include a sentence to the effect that they have good guanxi (relations) with authorities. Some even go so far as to say that they are attached to several government sectors.
"Gunmen can be divided into three types," said Xiao Ming (not his real name), a local university student, who has been a test stand-in five times.
First are those who take exams for their friends who are lagging behind in their studies. These gunmen don't do it for the money. Several beers or a nice dinner is enough.
The second type is self-employed and does it as a business but isn't connected to any group or agency.
The third type are those who are like agency employees. Their jobs may involve travelling to other cities to take tests.
"It is this third type that is growing the fastest. The most representative one may be the huanqiu qiangshou jituan, or Global Gunman Group," he said.
Its website, www.qiangshoujituan.com, which was blocked several weeks ago after being revealed by the local media, was re-activated in late December.
The service it provides ranges from CET-4 to TOEFL and IELTS, and from the registered accountant to a custom declarer. The prices charged for taking tests vary from 400 yuan to 10,000 yuan (US$48 to US$1,200). The highest prices are for IELTS and TOEFL, set at around 12,000 yuan (US$1,445).
The website touts three different services to clients. Apart from arranging gunmen, they can also provide test papers along with the answers to the clients before the test or provide answers through certain wireless equipment during the testing.
According to Li, an employee with the group, it is quite safe to be a gunman.
"It is very hard to distinguish a fake test card from a real one. Almost all our gunmen come back safe and sound," she said.
Echoing her words, Xiao Ming said that there are only three circumstances under which the gunman might be caught. The first is if the test monitors happen to know the student the gunman is to replace. The second is when some other students report the gunman to the teacher, and the third is when the false test and ID cards the gunman uses are detected by the monitors.
"The unlucky ones will be expelled by the school," she said. A girl student at Fudan University was expelled last year for being a gunman, and in Central China's Hunan Province, six students were deprived of their bachelor's degrees and graduation certificates after hiring gunmen for their CET-4.
Legal loopholes
Compared with the quick growth of the gunman business, effective measures from the authorities against it seem to be slow in coming.
"The gunman is not the business of the police sector," said Ma Lanjin, an official with the Shanghai Public Security Bureau.
"So far there is no law or regulation dealing with the gunman, and neither have we ever dealt with any such case. According to the country's laws, only cases such as stealing test papers can be deemed a crime and categorized as revealing a State secret. Catching and punishing gunmen is more the responsibility of the education authorities." he said.
"Sometimes we hear reports about advertisements on campus seeking gunmen, but we have no right to take any solid measures against those involved," said Xu Laiyong, vice-director of the Shanghai Municipal Educational Examinations Authority.
"What we can do is catch the gunmen right on the spot and then report their conduct to their universities, or working units if they have jobs." But given the increasingly advanced technology of the gunmen, very few of them are caught red-handed at exams in Shanghai.
As for the rampant gunman websites which have already become the most popular way to expand the business, they are the responsibility of information authorities.
When one phenomenon falls under the jurisdiction of too many different government sectors, it usually becomes difficult to control, experts said.

| | |
| --- | --- |
| | |
| Zhang Mi | |

| | |
| --- | --- |
| | |
| Pitt and Aniston separate | |

| | |
| --- | --- |
| | |
| Britney heads for university | |
Today's Top News
Top Life News

Beijing reveals plan for cross-Straits charter flights




Nation jumps to be world third largest trader




Hu offers systematic cure to corruption




Draft law aims to hold back monopolies




Wintry Beijing tackles heating shortfalls




Hired 'guns' haunt college exams