12 missing after California mudslide
(Agencies)
Updated: 2005-01-11 10:48
A huge mudslide crashed down on homes in a coastal hamlet with terrifying force Monday, killing at least one person and leaving up to 12 missing as a Pacific storm hammered Southern California for a fourth straight day.
Ventura County Fire Department Chief Bob Roper said at least six and as many as a dozen residents were missing in the mudslide that pummeled a four-block area of homes in tiny La Conchita, about 70 miles northwest of Los Angeles. Nine people were injured, including a 60-year-old man who was buried for three hours.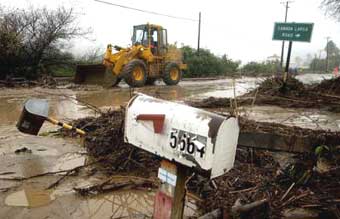 A bulldozer moves mud and debris off of Ventura Avenue after heavy rainfall fell in the area Monday, Jan. 10, 2005, in Ventura, Calif. [AP]

"It lasted a long time. It was slow-moving. The roofs of the houses were crashing and creaking real loud and there was a huge rumble sound," said Robert Cardoza, a construction worker who was clearing debris from a nearby highway.

The mudslide brought the number of dead from the latest wave of California storms to 10. The storms have sent rainfall totals to astonishing levels, turning normally mild Southern California into a giant flood zone.

The hillside in La Conchita cascaded down like a brown river as authorities were evacuating about 200 residents from the area. Trees and vegetation were carried away, leaving huge gashes of raw earth on the bluff.

Some residents made their way from the area clutching pets, luggage or clothing as the huge mass of mud bore down. Some huddled together or cried as they talked on cell phones. Fifteen to 20 houses were hit by the slide.

Rescuers dropped listening devices into the rubble to try to locate victims before another downpour of up to 2 inches of rain was expected before dawn Tuesday.

La Conchita is a slip of a town pressed between a highway and a towering coastal bluff. Several houses were damaged by a mudslide here during powerful storms in the 1990s.

The destruction at La Conchita was the worst disaster of the storms to date, but mudslides and flooding were reported throughout the region, blocking road and rail travel and forcing a shutdown of interstate petroleum supply lines.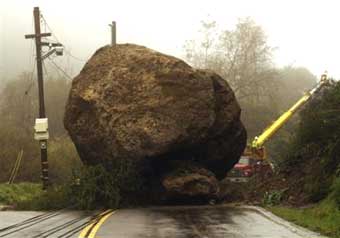 A boulder some 25 feet high blocks both lanes of the Topanga Caynon Road, Monday, Jan. 10, 2005, as electrical contractors fix broken power and communication lines in Malibu, Calif. No injures where reported, but the road remains closed. The storm system was blamed for at least nine deaths during the weekend in Southern California, including a man killed when his vehicle plunged into the surf off Pacific Coast Highway in Malibu, and a homeless man killed when the hillside where his tent was pitched gave way. [AP]

The death toll also includes a 2-year-old girl who slipped from her mother's grasp as rescuers tried to hoist them from a car submerged on a road outside Los Angeles. Avalanches killed two people in Utah and one in Nevada — a 13-year-old snowboarder who was swept off a ski lift to his death.

From the start of the latest dose of violent weather on Friday through midday Monday, several mountainous areas in Southern California had recorded more than 20 inches of rain, including 26 inches in Nordhoff Ridge in the Ventura County mountains.

The rain came on the heels of stormy weather that blasted the state earlier last week.

The average amount of winter rainfall in downtown Los Angeles is 15 inches, but about 21 inches had fallen as of Monday, including a Jan. 9 record of 2.6 inches, said National Weather Service meteorologist Bruce Rockwell.

"I've never seen such a sustained event like this," Rockwell said.

The heavy rainfall was being generated by a sluggish low-pressure system rotating off California and drawing a flow of moisture known as a "Pineapple Express" up from the subtropical Pacific near Hawaii.

To the north in the Sierra Nevada, the storm produced heavy snow during the weekend that stalled an Amtrak train, shut down the airport at Reno, Nev., for the second time in a week, and halted highway travel across the mountain range.

Since Dec. 28, up to 19 feet of snow has fallen at elevations above 7,000 feet in the Sierra Nevada, with 6 1/2 feet at lower elevations in the Reno area. Meteorologists said it was the most snow the Reno-Lake Tahoe area has seen since 1916.

The commuter link between Reno and Carson City was closed Sunday by whiteout conditions as wind swept down from the Sierra. With visibility sharply reduced, at least 40 vehicles, including three Nevada Highway Patrol cruisers, skidded into snow drifts, ditches and each other. National Guard members used Humvees to pick up the stuck motorists.

"We're talking real ugly conditions. In 12 years with the NHP I've never seen conditions that bad," Trooper Jeff Bowers said.

The train of storms that have slammed into California also have spread rain, snow and ice eastward across the nation.

The storms have piled up 10 feet of snow in the Rockies, where three skiers on a family outing were reported missing Monday.

Four snowmobilers were stranded overnight near Steamboat Springs, Colo., after they got stuck. None was injured, but they considered themselves lucky to get out alive Sunday morning.

Jesse Goble and his brother-in-law started a fire with a stick they saturated in gasoline and lit from a spark plug on one of their machines. They spent the night cutting up a dead tree to feed the flames, sharing a single water bottle with melted snow and four Snickers bars.

"We were fortunate that it was 20 degrees and mostly clear," Goble said. "A few things different, it would have been a whole different story."

Last week's heavy rain and snow also produced flooding along the Ohio River that has affected communities in West Virginia, Ohio, Kentucky and Indiana, covering riverside roads and forcing some residents to evacuate. One person died Monday in Ohio when he drove into high water.

Tens of thousands remained without power.




Today's Top News
Top World News

Cross-Straits charter flights promising




Hopes for peace rise as Abbas wins votes




China tycoon donates $1.2m for tsunami aid




Yushchenko declared winner of Ukraine vote




Urbanization may cause geological disasters




China baby pooh-poohs diaper ad offers