Britney heads for university
(Agencies)
Updated: 2005-01-11 10:24
Britney Spears is reportedly eager to quit her pop career - to become a forensic scientist.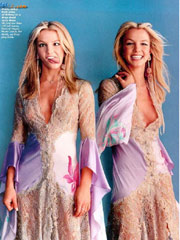 American pop diva Britney Spears

The sexy Toxic star - whose music offerings were overshadowed by her two marriages last year - has developed a passion for solving crimes after watching hit detective TV series CSI: Crime Scene Investigation.

Spears, 23, is now keen to transform her latest fad into a university degree, according to The Daily Mirror.

A pal says: "It sounds ridiculous but she's been inspired by CSI, which shows scientists solving crimes.

"Britney has been growing tired of all the media attention and is thinking about taking a break from it all. She's taking this university idea quite seriously."

Spears' husband of nearly four months, Kevin Federline, has reportedly vowed to support his famous wife in whatever new endeavour she chooses to take on.

The source adds: "If she decides she wants to study, the he'd be fine with that."