Zhang Yimou named best director by US critics
(Agencies)
Updated: 2005-01-11 09:11
A group of leading U.S. film critics named Chinese director Zhang Yimou best director for his martial arts film House of Flying Daggers on Sunday.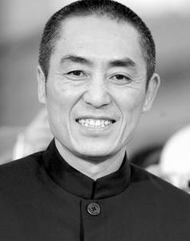 Chinese film director Zhang Yimou [baidu]

In addition, the U.S. National Society of Film Critics gave the award for cinematography to Zhang's film, which was also named the runner-up in 2004's best foreign language movie category, with Senegal's Moolaade as the No. 1 and France's Notre Musique as the No. 3 pick.

Director Clint Eastwood's Million Dollar Baby was awarded best film of 2004, and its star, Hilary Swank, shared best actress honors with Britain's Imelda Staunton in the abortion drama Vera Drake.

The National Society of Film Critics picked Sideways, about two middle-aged men looking for love on a wine-soaked holiday in California, as the runner-up for the year's best movie, and the film earned three top honors.

Sideways screenwriters Alexander Payne and Jim Taylor won the award for best screenplay, and co-stars Thomas Haden Church and Virginia Madsen were best supporting actor and supporting actress, respectively.

The 56 members of the society gather annually at Sardi's Restaurant in New York City to discuss films and performances; then they vote. The critics work for major newspapers and magazines across the United States.

Jamie Foxx was named by the critics best actor for two roles, soul singing legend Ray Charles in biopic Ray, and a taxi driver who is held hostage by a murderer in Collateral. Runner-up was Paul Giamatti for Sideways and No. 3 was Clint Eastwood as an aged trainer who teaches Swank's character to be a champion boxer.

The third spot in the best actress category belonged to Julie Delpy for the romance Before Sunset, which was the No. 3 movie of the year behind Million Dollar Baby and Sideways.

Early critical picks and other awards often help narrow the list of potential nominees for the Oscars, the U.S. film industry's top awards, given out in February by the Academy of Motion Picture Arts and Sciences.




| | |
| --- | --- |
| | |
| Zhang Mi | |

| | |
| --- | --- |
| | |
| Pitt and Aniston separate | |

| | |
| --- | --- |
| | |
| Britney heads for university | |
Today's Top News
Top Life News

Beijing reveals plan for cross-Straits charter flights




Nation jumps to be world third largest trader




Hu offers systematic cure to corruption




Draft law aims to hold back monopolies




Wintry Beijing tackles heating shortfalls




Hired 'guns' haunt college exams