Abbas makes peace gesture to Israel
(Agencies)
Updated: 2005-01-11 08:55
Palestinian leader Mahmoud Abbas extended his hand in peace Monday, his first gesture toward Israel since his landslide victory in presidential elections.
His remarks added to the sense of optimism felt in the region since Abbas' election Sunday. The victory, which capped a peaceful transition of power after the Nov. 11 death of Yasser Arafat, has raised hopes around the world that peace talks could soon resume.
"We extend our hands to our neighbors," Abbas declared late Monday after a meeting with international observers who monitored the election. "We are ready for peace, peace based on justice. We hope that their response will be positive."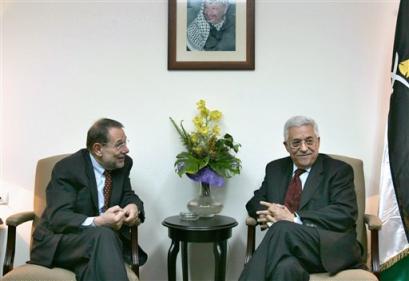 Palestinian Authority President-elect Mahmoud Abbas also known as Abu Mazen, right, meets with EU foreign policy chief Javier Solana the morning after his election victory Monday, Jan. 10, 2005 in the West Bank town of Ramallah. Abbas swept the polls with an estimated 70% of the vote to replace the late Palestinian leader Yasser Arafat. [AP]

Israel has welcomed Abbas' election, and even Palestinian militants expressed a willingness to work with him.

But hard-line Islamic groups raised questions about the legitimacy of the vote in the face of what appeared to be a low turnout, underscoring the sensitive task that Abbas faces as he tries to restart peace talks with Israel.

Israeli Prime Minister Ariel Sharon welcomed Abbas' victory but said he will watch closely how hard he tries to subdue militants.

"He will be tested based on the way in which he fights terrorism and dismantles their infrastructure," Sharon said.

Sharon got a boost for his plan to withdraw from the Gaza Strip and parts of the West Bank this summer, with approval of a new coalition with the dovish Labor Party. His new government took office after narrowly winning a parliamentary vote of confidence. The alliance cleared the way for Sharon to push the withdrawal plan through parliament.

Sharon, who initially proposed his Gaza plan as a unilateral act, has said he would coordinate the pullout with Abbas if there is a crackdown on militants.

Israeli and Palestinian officials said the two leaders would be meeting "soon," though they declined to be specific.

In Washington, US President Bush congratulated Abbas and invited the new Palestinian leader to the White House — an offer never extended to Arafat.

Palestinian spokesman Nabil Abu Rdeneh called the invitation "encouraging."

Final results released Monday showed Abbas winning 62.3 percent of the vote, said Hanna Nasser, head of the Central Election Commission. His main challenger, independent Mustafa Barghouti, won 19.8 percent, while the remaining five candidates scored in the lower single digits.

However, Nasser declined to give a turnout figure, citing confusion over the number of unregistered voters who were deemed eligible to vote.

Voting was extended by two hours Sunday in what officials with Abbas' Fatah movement acknowledged was a move to encourage more people to vote.

The questions about voter participation emerged as a possible point of contention between Fatah and hard-line groups Hamas and Islamic Jihad.

On Sunday, Palestinian officials said nearly 70 percent of 1.1 million registered voters cast ballots.

But because election officials opened up the polls to all Palestinians above age 18 in the middle of the day Sunday, about 660,000 others could have voted.

Nasser said only 12 percent of those people voted, indicating that the true turnout might have been closer to 50 percent.

The militant groups, which have carried out dozens of suicide bombings in Israel in the past four years, boycotted the election, though they did not try to disrupt it.

"We respect this result despite the serious irregularities during the last two hours of the election," said Sami Abu Zuhri, a Hamas spokesman.

Mohammed al-Hindi, an Islamic Jihad leader, said the group is ready to work with Abbas. But he said the election did not represent the wishes of the Palestinian majority.

"That means the result doesn't authorize the winner to negotiate the essential questions of the Palestinian people," he added.

Abbas campaigned against attacks against Israel, saying they have only hurt the Palestinian cause by drawing harsh Israeli reprisals.

Although he has resisted Israeli calls to confront militants, Abbas is expected to try to persuade the militant groups to agree to a cease-fire.

Weary from four years of fighting with Israel, Hamas and Islamic Jihad have indicated they are willing to halt their attacks. But both groups Monday reaffirmed their right to "resistance."

Sharon said the cease-fire is an internal Palestinian matter, but that Israel would respond positively to quiet.

Abbas' victory held out the promise of a new era after four decades of chaotic and corruption-riddled rule by Arafat. Abbas promises to reform the government and the unwieldy security services.

However, Abbas' goals are the same as Arafat's: a Palestinian state in the West Bank, Gaza Strip and east Jerusalem, and a solution for Palestinian war refugees.

Former President Jimmy Carter, who led an international delegation of election observers, said the vote went smoothly overall, and praised the Israelis and the Palestinians for making great efforts to ensure the free, democratic process.

"This is a good opportunity for us to participate and see the heroic and almost miraculous achievement of the Palestinian people in shaping this election in such a short time," Carter said.




Today's Top News
Top World News

Cross-Straits charter flights promising




Hopes for peace rise as Abbas wins votes




Urban doctors to provide rural services




Polar explorers climb peak of Antarctica




New Ukraine leader to take power at last




Waterways to ease cargo congestion