Polar explorers climb peak of Antarctica
(China Daily/Xinhua)
Updated: 2005-01-10 00:18
Chinese polar explorers have completed half of their Kunlun Dome A Inland Icecap programme, the primary mission of China's 21st Antarctic expedition, by climbing to the north peak of Dome A.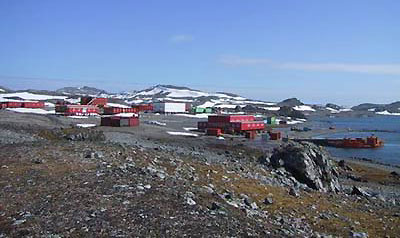 An undated file photo shows the Great Wall research station at Antarctica. [Xinhua]


Zhang Zhanhai, the leader of the expedition said that he had received a telephone report from Li Yuansheng, the leader of the mission team, that his team successfully mounted the north peak at 11:30 pm Beijing time on Sunday.

Preliminary measurement by global positioning system shows that the north peak of Dome A is 4,091 metres above sea level.

According to telemetering data of the satellite, the South Pole's inland icecap has two peaks, more than 10 kilometres away from each other.

Only by a joint measurement from the satellite and the ground can the explorers decide which one is higher.

After a more exact survey of the north peak, the mission team will set out to look for the south peak.

Gai Junxian, the mission team's technician, left the team on Saturday because of a strong altitude reaction. He is now receiving treatment at a research station of the United States and is in a stable condition.

The remaining 12 team members are all in good condition, said Wei Wenliang, vice-director of the Chinese Arctic and Antarctic Administration.

Besides conducting a variety of scientific experiments and collecting ice samples, Chinese scientists plan to stay in the peak area for about 10 to 15 days and build a temporary weather observatory to prepare for building a permanent research station in inland Antarctica.

Dome A is located about 1,300 metres inland away from the coast. With a brutal climate and a height of more than 4,000 metres above sea level, Dome A is known as one of the world's most inaccessible places.

In another development, China's polar expedition ship Xuelong (Snow Dragon) arrived in Ushuaia, a port of southern Argentina on Friday.

They will stay there for three days for replenishment and then go back to the Zhongshan Station, a permanent research station China built on the continent in 1989.

The Xuelong ship was welcomed by Argentine local government officials and Chinese embassy officials on their arrival in the afternoon.

Zhang said China's 21st Antarctic expedition has finished most of its tasks since it left China on October 25 last year for the 150-day expedition. The Xuelong ship is expected to return to China in March.

Meanwhile, Yuan Shaohong, captain of the Xuelong, said the ship will be completely revamped in May or June this year after the expedition. The revamp will be completed by August 2006.

After the rebuilding, Xuelong will have an increased laboratory area of 300 square metres, and its capacity for scientific research, safety and living conditions will all be greatly improved.




Today's Top News
Top China News

Cross-Straits charter flights promising




Hopes for peace rise as Abbas wins votes




Polar explorers climb peak of Antarctica




Yushchenko declared winner of Ukraine vote




Urban doctors to provide rural services




Urbanization may cause geological disasters