Waterways to ease cargo congestion
By Cao Desheng (China Daily)
Updated: 2005-01-10 00:18
Water transport will be used to help alleviate the nation's strained cargo routes as the chronic railway bottleneck continues this year.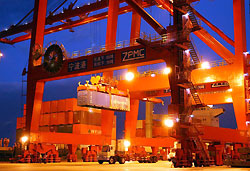 A file photo shows port of Ningbo, East China's Zhejiang Pronvince on December 28, 2004. [newsphoto]

Intensive harbour group constructions will be highlighted in coastal areas including the Yangtze River Delta, Pearl River Delta and Bohai Bay, an official from the Ministry of Communications said.

Under the ministry's plan, the handling capacity in the three major harbour groups will be doubled, reaching 3.5 billion tons each before 2010, said Ren Jianhua, vice-director of the ministry's planning department.

"These harbours will contribute a lot to alleviating the long delays in deliveries of coal, iron ore and oil," Ren said.

China's cargo transport became strained since last February. Despite overloading the railways with extra trains, rail capacity is still far short of demand.

In the first three quarters of last year, the daily demand for railroad cars surged to more than 100,000, but the existing rail network can only handle 35 per cent of this, says the Ministry of Railways.

During that period, the total number of cargo deliveries on railways amounted to 1.6-plus billion tons, up 9 per cent from the same period of 2003. Among them was 740 million tons of coal, an increase of 12.7 per cent over the previous year.

Because of transport difficulties, coal chiefly produced in Shanxi and Shaanxi provinces and the Inner Mongolia Autonomous Region in the nation's inland areas failed to reach power plants in coastal, eastern and southern areas, leading to massive power shortages last year.

The situation will continue this year even as the country's economic growth slows, experts estimate.

While adding road transport to the strained rail network, the nation's major cargo transport means, the Ministry of Communications is encouraging shipping companies to join in the effort to ensure the economy operates normally, said Xu Zuyuan, vice-minister of the ministry.

Xu spoke at the launching ceremony of a bulk cargo fleet of the China Ocean Shipping (Group) Company (COSCO), the nation's pioneer of the shipping industry, over the weekend.

The fleet, boasting 19 bulk vessels with each having 850,000 tons of handling capacity, will focus on transporting coal used for generating electricity.

The company will expand its fleet from the current 19 vessels to 50, with an annual handling capacity of 50 million tons within three years, COSCO President Wei Jiafu said.

The fleet will help break the potential bottleneck in the national economy in respect of cargo transport this year, Xu said.

According to estimates from the State Information Centre, this year will witness around 2 billion tons of cargo transport via water ways, up 6.4 per cent from last year.




Today's Top News
Top China News

Cross-Straits charter flights promising




Hopes for peace rise as Abbas wins votes




China tycoon donates $1.2m for tsunami aid




Yushchenko declared winner of Ukraine vote




Urbanization may cause geological disasters




China baby pooh-poohs diaper ad offers