New Ukraine leader to take power at last
(Agencies)
Updated: 2005-01-10 20:44
KIEV, Ukraine (Reuters) - Ukraine's Western-leaning new leader Viktor Yushchenko was poised to take power at last after the election commission announced it would certify the result of last month's vote Monday.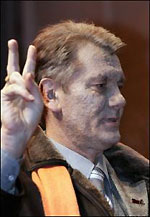 Ukrainian opposition leader Viktor Yushchenko flashes the V-sign during a rally in Kiev. Ukraine election officials were set to officially declare Yushchenko the winner of a presidential rerun vote, paving the way for the 'orange revolution' hero to be sworn in as the third president of an independent Ukraine. [AFP]

The final certification would end more than two weeks of political limbo during which Yushchenko's Moscow-backed opponent, former Prime Minister Viktor Yanukovich, stalled with repeated, unsuccessful challenges to the outcome.

Yushchenko said the challenges were "torturing the nation" and his supporters accused allies of outgoing President Leonid Kuchma of spinning out the transition to buy time to cover the tracks of shady deals.

But there has been little doubt that Yushchenko would take power some time this month after his decisive victory in the Dec. 26 vote, a rerun of a rigged poll that Yanukovich had won.

"We are going to announce a result. The meeting will start at 2 p.m. (1200 GMT)" an election commission spokeswoman said.

The Supreme Court threw out Yanukovich's main appeal last week and rejected challenges to results from individual precincts Monday.

But the head of Yanukovich's campaign staff said he was working on another challenge after the result is announced.

UGLY TRANSITION

The transition has not been pretty. In the two weeks since the election, one member of the outgoing cabinet was found dead in his sauna with a gunshot to the head. Kuchma sacked others and some are rumored to have left the country.

Before November's rigged election, Yushchenko was poisoned in what he says was a murder attempt by the authorities.

Yushchenko's supporters have spent the two weeks -- which included back-to-back three-day holiday weekends -- celebrating his victory in the center of the capital Kiev.

A tent city set up to protest against the election rigging has yet to be dismantled. Those living in it say they will stay until Yushchenko is inaugurated.

Hundreds of thousands of demonstrators have been replaced by throngs of young people attending outdoor rock concerts and families strolling with children bundled into hats and scarves in Yushchenko's orange campaign colors.

But the euphoria hides serious challenges for Yushchenko's early days in office.

Large parts of the country's mainly Russian-speaking east and south supported Yanukovich. They have backed away from threats to pursue autonomy, but remain hostile to Yushchenko.

Yushchenko's party controls just 100 of the 425 seats in parliament and allied parties perhaps 100 more.

He will immediately have to form a coalition to confirm his choice of prime minister and under new rules the prime minister, cabinet and parliament will take on many of the powers his predecessor enjoyed as president.

He must also patch up relations with Moscow, where President Vladimir Putin openly campaigned for Yanukovich.

Yushchenko has promised to turn Ukraine toward the West, but its Soviet-era industry depends on imports of gas and oil from other parts of the ex-Soviet Union over Russian territory, giving Moscow enormous leverage over Ukraine's economy.

Eight Ukrainian troops were killed Sunday in Iraq. Yushchenko has promised to bring the country's 1,600 troops home and said after the deaths he would make that a priority.




Today's Top News
Top World News

Official: Non-stop charter flights attainable




Securities reforms to lift exchanges




China to revamp disaster warning system




Abbas sees 'difficult mission' after win




Pollution worsens in China's sea waters




Sex advice on menu at Shenzhen cafe bar