Abbas election victory stirs hopes for peace talks
(Agencies)
Updated: 2005-01-10 20:35
RAMALLAH, West Bank - Victory by an advocate of non-violence in Palestinian presidential elections stirred hopes Monday for new peace talks, but Israel demanded the Palestinians move first by cracking down on militants.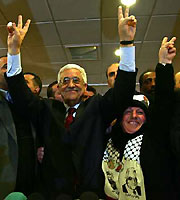 Palestinian presidential candidate Mahmoud Abbas (L) celebrates his campaign with a supporter after the close of voting in the West Bank city of Ramallah, January 9, 2005. [Reuters]

"The main focus at this stage, following (Sunday's) election, should be Palestinian action on terror," Israeli Prime Minister Sharon's office quoted him as telling visiting U.S. Senator John Kerry.

Mahmoud Abbas, 69, claimed victory after exit polls showed he had won 65 percent of the vote in the elections in the West Bank, Gaza Strip and East Jerusalem to find a successor to Yasser Arafat. The margin was at the top end of expectations.

Israel has said it sees Abbas as a man to do business with and has praised his calls for an end to violence in a 4-year-old Palestinian uprising. But it has criticized his intention to co-opt rather than confront militants.

"The Palestinians are still not fighting terror and while (Abbas's) declarations in the framework of the election campaign were encouraging, he will be tested by the way he battles terror and acts to dismantle its infrastructure," Sharon said.

In his comments to Kerry, who lost the 2004 U.S. presidential ballot to incumbent George W. Bush, Sharon offered to resume cooperation between Israeli and Palestinian security organizations and coordinate aspects of a planned Gaza pullout.

But he said: "If terrorism continues until implementation of the disengagement plan, Israel's response will be stronger than ever." He was referring to mortar bomb attacks on Jewish settlements in Gaza slated for evacuation later this year.

Militants, including the Islamic movement Hamas, have defied Abbas's calls to end armed struggle. And neither Palestinians nor Israelis have shown signs of compromise on fundamental issues behind decades of conflict.

NEW ISRAELI GOVERNMENT

In another significant shift in the Middle East equation, a new Israeli government led by Sharon but with veteran peacemaker Shimon Peres' center-left Labor Party a main partner, was expected to take office later in the day.

It will restore Sharon's parliamentary majority for the first time in six months and pursue the Gaza pullout opposed by hard-liners, including rebels in his right-wing Likud party.

Turnout in the first Palestinian presidential election since 1996 looked healthy despite a boycott call by Islamic militants, strengthening Abbas's mandate for change after Arafat's death at the age of 75 on Nov. 11.

"A moderate man was elected, an intelligent man, an experienced man. Let's give him a chance," Peres told Army Radio.

Former U.S. president Jimmy Carter, who led an international monitoring team, said Abbas won "a remarkably wonderful victory." Final election results were expected later Monday.

"He will be inaugurated as a new president Wednesday ... This opens up an opportunity, in my opinion, for renewed peace negotiations," Carter said after meeting Abbas.

Abbas has promised to seek peace with Israel, battle widespread corruption and revive the crumbling Palestinian Authority, reversing the legacy of four years of debilitating violence and Arafat's chaotic rule.


"Victory is beautiful but it will be more beautiful to fulfil the pledges," said Abbas, candidate of the dominant Fatah movement.

Israeli officials have said Sharon, who accused Arafat of fomenting violence and shunned him for years, will seek a meeting with Abbas within days. But Abbas aides said he wanted assurances that it would be more than a photo opportunity.

The militant Islamic group Hamas said it could work with Abbas, but questioned his real margin of victory.




Today's Top News
Top World News

Official: Non-stop charter flights attainable




Securities reforms to lift exchanges




China to revamp disaster warning system




Abbas sees 'difficult mission' after win




Pollution worsens in China's sea waters




Sex advice on menu at Shenzhen cafe bar