'Fahrenheit,' 'Passion' Win People's Choice Awards
(Agencies)
Updated: 2005-01-10 14:03
Two hit films that have been snubbed this awards season in Hollywood snared top People's Choice honors on Sunday as anti-Bush documentary "Fahrenheit 9/11" was named best film and "The Passion of The Christ" best film drama.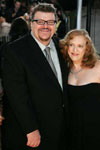 Director Michael Moore (L) arrives with his wife Catherine at the 31st annual People's Choice Awards in Pasadena, California, January 9, 2005. [Reuters]

In television categories, sensation "Desperate Housewives" was the top new drama and "Joey," starring former "Friends" star Matt LeBlanc, was best new comedy. Veteran shows "Will & Grace" and "CSI: Crime Scene Investigation" earned the honors best TV comedy and TV drama, respectively.

Over the next several weeks, many professional associations and critics groups in the United States will pick best films, TV shows, songs and musicians during the annual awards season.

The People's Choice Awards, however, gauge fan appeal. This year, favorites were chosen by 21 million online voters.


Neither "Fahrenheit" nor "Passion" have fared well in award voting from critics and media groups, and "Passion" director Mel Gibson has vowed not to campaign his film for an Oscar, as many other film producers and directors do.

"To me, really, this is the ultimate goal because one doesn't make work for the elite," Gibson told reporters backstage. "To me, the people have spoken."

"Fahrenheit" director Michael Moore dedicated his trophy to the soldiers in Iraq. His film was highly critical of President Bush and the U.S.-led invasion of Iraq, and Moore was an outspoken Bush critic in the 2004 presidential campaign in which Democratic challenger John Kerry lost.

THIS LAND IS YOUR LAND

"This country is still all of ours, not right or left or Democrat or Republican," Moore said to the audience.

One published report had speculated about whether the pair were tipped to be at the People's Choice Awards to accept their awards. Backstage, Gibson denied the speculation.

Moore also was invited to attend a New York Film Critics Circle dinner tonight in New York, but said he came to Pasadena because it was "an historic occasion" that the 31-year-old awards show would nominate a documentary for best film.

Among other winners, "Shrek 2," the U.S. No. 1 box office hit with $436 million, was picked both top animated movie and top film comedy.

Johnny Depp was named favorite male movie star. Julia Roberts was the top female movie star, but Renee Zellweger was favorite leading lady.

In television groups, "Joey" walked off with a second award for Matt LeBlanc as favorite male TV star. The former "Friends" star reprises his role as a struggling actor in "Joey."

"CSI" star Marg Helgenberger was favorite female TV star.

Nominees for the People's Choice Awards were picked by some 6,000 people who are part of Entertainment Weekly magazine's "Front Row Panel," then winners were decided via online voting.

The People's Choice Awards aired on the CBS television network, a unit of media conglomerate Viacom Inc.




| | |
| --- | --- |
| | |
| Pitt and Aniston separate | |

| | |
| --- | --- |
| | |
| Britney heads for university | |

| | |
| --- | --- |
| | |
| Pop diva Faye Wong to remarry | |
Today's Top News
Top Life News

Cross-Straits charter flights promising




Hopes for peace rise as Abbas wins votes




China tycoon donates $1.2m for tsunami aid




Yushchenko declared winner of Ukraine vote




12 missing after California mudslide




China baby pooh-poohs diaper ad offers