Official: Non-stop charter flights attainable
(Xinhua)
Updated: 2005-01-10 13:53
A Chinese mainland official welcomed Taiwan's efforts of sending a delegation to discuss the charter flights issue as the Chinese lunar new year approaches.
"If Taiwan can keep its words and is willing to take flexible measures," said Chen Yunlin, director of Taiwan Affairs Office of the Communist Party of China's Central Committee, "The mainland-Taiwan air links this year can be definitely attainable."
The air link between the two sides has been a long-standing issue, and it becomes particularly prominent during China's lunar new year, when many Taiwan residents choose to fly back to see their relatives on the island, and vice versa.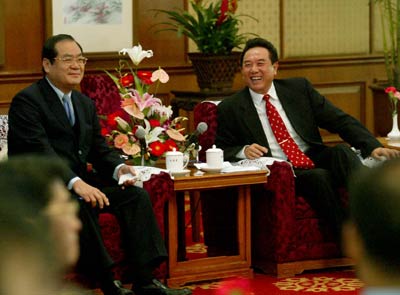 Chen Yunlin (right), director of Taiwan Affairs Office of the Communist Party of China's Central Committee, meets with Tseng Yung-chuan, director of the Kuomintang's central policy committee January 10, 2005 in Beijing. [newsphoto]
"We propose direct, round trip flights between the two sides with mutual participation, and the flights can ply several places in China's mainland," said Chen.
The Taiwan authorities agreed to the indirect charter flights in 2003's Spring Festival on certain conditions: only Taiwanese airlines could operate the charter flights; the flights have to fly the routes by landing in a third place and the flight should be only one way, no passengers should be carried on the trip back.
China's mainland holds that the issue should be based on non-government cooperation and air companies of both sides could discuss detailed issues in a practical manner, Chen said.
Taiwan group to talk on holiday flights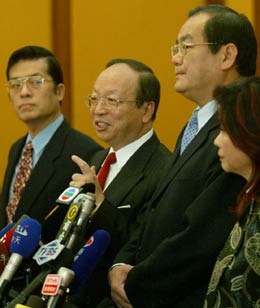 KMT legislator John Chang (center) speaks to the reporters. [newsphoto]

Mainland authorities Monday will start talks with a Taiwanese opposition delegation about allowing direct cross-Straits charter flights during the upcoming Spring Festival holiday.

The negotiations are set to inject fresh hopes to the launch of non-stop and two-way charter flights between the mainland and Taiwan during the 2005 Chinese Lunar New Year, which falls on February 9.

The island has banned direct air links with the Chinese mainland since 1949.

A six-member Kuomintang (KMT) delegation led by Tseng Yung-chuan, director of the KMT's central policy committee, arrived in Beijing Sunday afternoon.

Delegation members also included KMT spokesman Chang Jung-kung and KMT "lawmaker" John Chang, who initiated the direct cross-Straits charter flights in 2002.

Sources with the Taiwan Affairs Office of the State Council said Sunday the KMT group are scheduled to meet with Chen Yunlin, director of the Taiwan Affairs Office, this morning.

They will hold talks with officials of the General Administration of the Civil Aviation of China in the afternoon.

Beijing has proposed non-government talks across the Straits to work out technical and business issues concerning cross-Straits charter flights.

John Chang reportedly said Sunday the Taiwan administration has not officially authorized the opposition visit, but will be pressurized to recognize any agreement that is reached.

"They move passively and we have to give them pressure," he was quoted as saying by the Taiwanese media.

Media reports in Taiwan also said the KMT mission will discuss with mainland authorities a model for "non-stop, round-trip, multi-destination flights by carriers on both sides."

That means both mainland and Taiwanese airlines can provide direct charter flights and the flights will pass through Hong Kong or Macao airspace without touching down.

Meanwhile, mainland destinations for the charter flight plan may expand to Beijing, Guangzhou and Xiamen instead of only Shanghai.

Cross-Straits charter flights were first run between Taipei, Kaohsiung and Shanghai during the 2003 Spring Festival, but involved only six Taiwanese airlines. And all charter planes were required to transit through a third place.




Today's Top News
Top China News

Official: Non-stop charter flights attainable




Securities reforms to lift exchanges




China to revamp disaster warning system




Abbas sees 'difficult mission' after win




Pollution worsens in China's sea waters




Sex advice on menu at Shenzhen cafe bar