Bush reaches out to Palestinians after vote
(Agencies)
Updated: 2005-01-10 08:46
US President Bush said on Sunday that the United States stands ready to help the new Palestinian president, Mahmoud Abbas, as he faces up to critical post-election challenges combating militants and carrying out reform.
Congressional aides said Bush is considering a proposal to boost U.S. aid to the Palestinians this year by $200 million -- a more than twofold increase -- to help Abbas prepare for Israel's withdrawal from Gaza.
The U.S. money is expected to be tied to Palestinian efforts in stopping violence and carrying out reforms.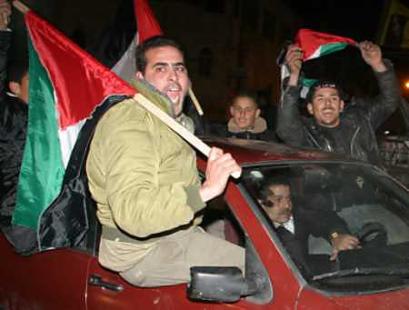 Supporters of Palestinian presidential candidate Mahmoud Abbas celebrate after the close of voting in the West Bank city of Ramallah, January 9, 2005. US President Bush praised Sunday's Palestinian elections as an essential step toward the goal of statehood and promised to help the new president, Mahmoud Abbas, in a renewed push for peace with Israel. [Reuters]

Bush said Sunday's presidential election -- and parliamentary elections that will follow in several months -- "are essential for the establishment of a sovereign, independent, viable, democratic, and peaceful Palestinian state that can live alongside a safe and secure Israel."

"The United States stands ready to help the Palestinian people realize their aspirations," he added.

Bush held up the "largely free and fair" Palestinian presidential election as "further proof" that people in the Middle East want democracy.

Earlier on Sunday, US Secretary of State Colin Powell urged Israel, as an initial confidence-building measure, to release more Palestinian prisoners as part of a post-election push to revive peace talks with Israel.

"The United States is standing ready to do a lot more," Powell said.

Washington favored Abbas to replace Yasser Arafat, whom Bush shunned as an obstacle to peace.

Because of concerns about corruption and of funding ending up in the hands of militants, the United States steered U.S. financial aid through nongovernmental organizations, sidelining Arafat's Palestinian Authority.

Bush said the new Palestinian president and his cabinet "face critical tasks ahead, including fighting terrorism, combating corruption, building reformed and democratic institutions, and reviving the Palestinian economy."

He called on Israel to "improve the humanitarian and economic situation in the West Bank and Gaza," and said Arab states "must take concrete steps" to deny assistance to militants attacking Israel.

Powell said Bush should consider sending an envoy to the region "if we see the kind of progress that is possible in the next weeks or months."

Condoleezza Rice, Bush's nominee to replace Powell, is expected to visit Europe soon after her Senate confirmation to help coordinate Middle East peace efforts, officials said.

She is also considering making a trip early in the year to meet with Israeli and Palestinian leaders in the region, said sources close to the discussions.

Powell said the United States and others would step up with more financial aid "to help them with their economic development, and to help them reform their government so that they're ready to take over with these new institutions under new leadership."

Following Arafat's death, Bush provided $20 million directly to the Palestinian Authority, but on condition the money be used to pay Israeli utility bills.

Powell said the United States, Egypt, Jordan and others would help rebuild the Palestinian security forces "so that they can take control of Gaza" when Israel withdraws later this year.

Palestinian Foreign Minister Nabil Shaath suggested on CNN that Bush could issue an invitation to both Israeli and Palestinian leaders "to come to the White House and discuss full implementation of the road map."




Today's Top News
Top World News

Securities reforms to lift exchanges




China to revamp disaster warning system




Palestinians elect Abbas by wide margin




Taiwan group to talk on holiday flights




RMB 900m earmarked to build schools




Pollution worsens in country's sea waters