Abbas expected to win Palestinian election
(Agencies)
Updated: 2005-01-09 23:20
The historic Palestinian presidential election got underway throughout the West Bank, the Gaza Strip and east Jerusalem Sunday morning to choose a successor to the late Yasser Arafat.
It will be the first time the Palestinian people have directly elected their leader.
Seven candidates are running for the chairmanship of the Palestinian National Authority (PNA), including front-runner Mahmoud Abbas, chief of the Palestine Liberation Organization Executive Committee.
According to recent polls, Abbas is expected to win about half the votes.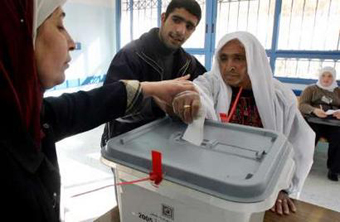 An elderly Palestinian woman receives help as she casts her vote in the West Bank Deheishe refugee camp in Bethlehem, January 9, 2005. [Reuters]

A survey conducted by the Palestinian centre for Polls showed on Saturday evening that Abbas, also the Fatah movement candidate, will be elected the new Palestinian leader.

Sunday, 1.8 million Palestinians headed to ballot stations, they have seven candidates to chose from.

Voting time may be extended if turnout is low, said Palestinian officials.

Polling stations opened at 7 am (0500 GMT), with a slow but steady turn out, and will close at 7 pm (1700 GMT). Initial returns were expected by Sunday evening with final results counted by today. In annexed east Jerusalem, only five booths have been created, but most Palestinians holding Israeli ID are expected to vote in neighbouring West Bank areas.

Former US President Jimmy Carter, one of 800 international monitors of the first Palestinian presidential election since 1996, said it appeared Israel was keeping to its promise to ease the passage of Palestinians at military checkpoints. There are also 20,000 local monitors.

But Palestinians complained on Saturday Israel was not abiding by its pledge to loosen its military grip in the West Bank and Gaza Strip, home to some 1.8 million eligible voters.

Also Sunday, Israeli Prime Minister Ariel Sharon made preparations to meet the winner of Sunday's Palestinian presidential election at the earliest moment, said one of his senior aides.

The source said such a meeting "would focus on security issues and security co-ordination between Israel and the Palestinian Authority" ahead of Israel's withdrawal from the Gaza Strip, scheduled for this year.

Sharon recently said he sees the coming year as an "opportunity for an historic breakthrough in relations between us and the Palestinians."




Today's Top News
Top World News

Kofi Annan: 'I have never seen such utter destruction'




Taiwan group to talk on holiday flights




Tusnami leaves legacy of crushing ruin




Wang Yi calls for better Sino-Japanese ties




People's donation via Red Cross tops гд100m




Wen urges Shenzhen to speed up growth